-
by New Deal democrat
Both March retail sales and industrial production were reported this morning. After employment, these are the two biggest reports I follow each month.
In particular, normally I spend a lot of time parsing the long and short leading aspects of retail sales - especially as it tends to shortly lead employment. I don't think that is particularly useful to resume yet. Industrial production, by contrast, is the King of coincident indicators.
Since the economic effects of the coronavirus pandemic only hit in the second half of March, I don't think we are seeing the full impact in these numbers. But let's take a look at what they show so far.
Both were objectively awful. But neither one was as awful as could easily have been expected. Both knocked off about the last 2.5 years of growth.
First, here's real retail sales, both excluding (blue) and including (red) food services. I include the former because, of course, restaurants have been all but obliterated by the lockdowns: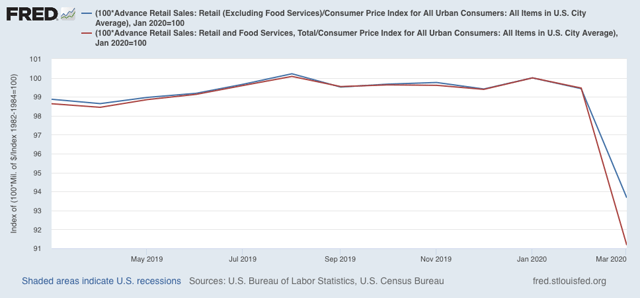 Including food services, real retail sales were down -8.8% from their January peak. Excluding food services, they were down -6.3% from that peak.
While in normal times that would be awful, that both maintained over 90% of their pre-coronavirus levels is cautiously encouraging news. Partly this is probably because of early March hoarding, partly because some services, like grocery stores, have to remain open, and partly because there is probably a big surge in online shopping.
Turning to industrial production, we see a similar story. Total production declined -5.4% from February, and manufacturing declined -6.3%: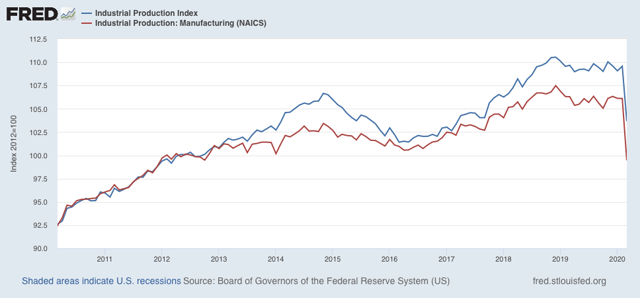 Both of these were not nearly so bad as might have been anticipated.
I expect worse to come when this month's reports are released in May. But for now, the takeaway is "less awful," and I'll take it.