- by New Deal democrat
This week's new jobless claims were essentially unchanged (but at their pandemic low), while continued claims continued their decline, also to a new pandemic low.

On a non-seasonally adjusted basis, new jobless claims declined by only 543 to 738,166, just above October 3's revised pandemic low 731,249. Seasonally adjusted claims declined by 7,000 to 751,000, a new pandemic low (which was also last week's number before revision this week). The 4 week moving average also decreased by 4,000 to 787,000, also a new pandemic low. Here is the close up since the end of July - for comparison, remember that these numbers were in the range of 5 to 7 million at their worst in early April: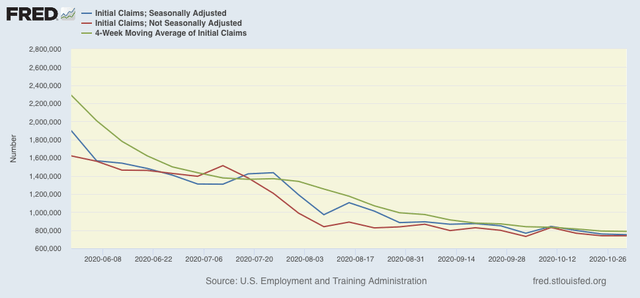 Continuing claims (which lag initial claims typically by a few weeks to several months) on a non-adjusted basis declined by 537,898 to 6,951,731. With seasonal adjustment they declined by 538,000 to 7,285,000. Both of these are new pandemic lows: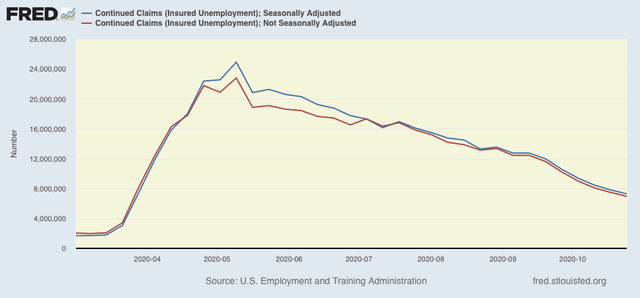 Continuing claims are now about 70% below their worst level from the beginning of May, but are still about 900,000 - 1,300,000 higher than their worst levels of the Great Recession.

The very slow improvement in layoffs has generally continued, similar to the same slow continued improvement in most of the "weekly indicators" I update each Saturday. I continue to harbor serious doubts whether that will continue to be the case as cold weather forces some venues like outdoor dining to close again, and the pandemic continues to surge yet again, albeit with lower levels of deaths than last spring.