- by New Deal democrat
This week's new jobless claims decreased close to their pandemic lows, while the unadjusted and 4 week averages did make new pandemic lows, as did continuing claims.

On a unadjusted basis, new jobless claims fell by 122,453 to 713,824. Seasonally adjusted claims declined by 75,000 to 712,000, still 1,000 higher than their pandemic lows three weeks ago. The 4 week moving average also fell by 11,250 to 739,500. Here is the close up since the end of July (for comparison, remember that these numbers were in the range of 5 to 7 million at their worst in early April):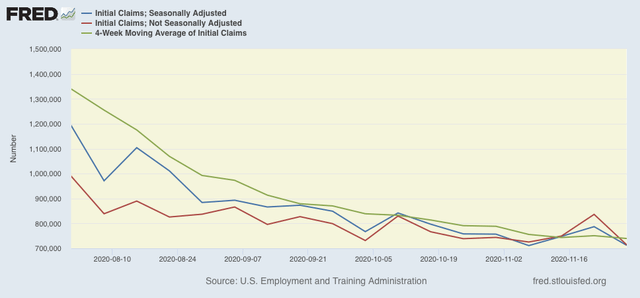 Continuing claims historically lag initial claims typically by a few weeks to several months. On an unadjusted basis, they declined by 690,170 to 5,240,575. With seasonal adjustment they declined by 569,000 to 5,520,000, both new pandemic lows: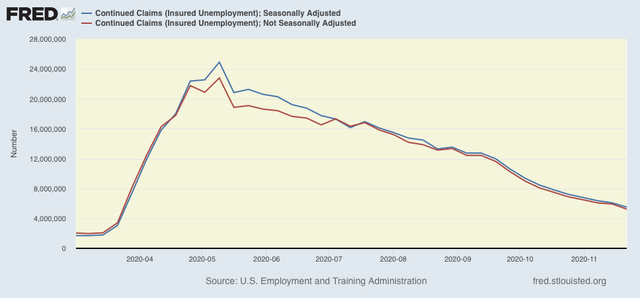 Seasonally adjusted new jobless claims have declined almost 90% from their March and April pandemic high, and continuing claims have declined over 75% from their April high: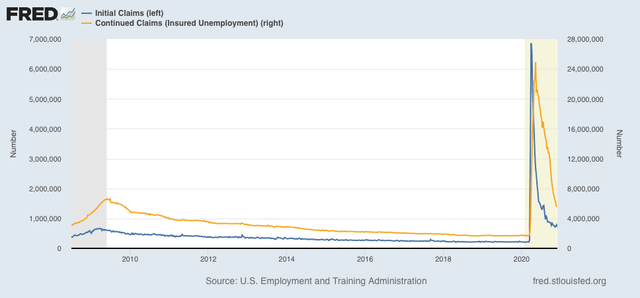 Initial claims remain about 50,000 higher than their worst levels of the Great Recession, while continuing claims have actually dipped about 1 million less than their worst levels.

Last week I wrote that "It appears increasingly likely that two weeks ago will mark an interim low, due to the pandemic spiraling out of control again in most of the country." This week's data shows that to be incorrect, as all measures made new pandemic lows, except for seasonally adjusted initial claims, which missed by 1,000.

Still, as the below graph of the YoY% change in initial claims shows, on a YoY basis, progress stopped in November: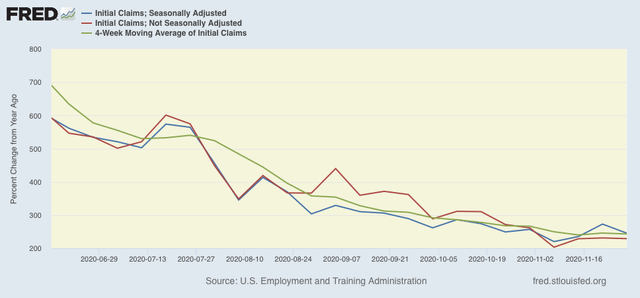 We're likely to get another positive number in tomorrow's November jobs report, but my guess is it will be the weakest reading of the past 6 months. I still suspect the near term trajectory in new jobless claims is going to be poorer.