- by New Deal democrat
Two months ago I wrote that both the manufacturing and housing sectors were "on fire." Then last month I wrote that they had "turned white hot," with both construction spending and ISM manufacturing data at levels not seen in years.
While construction backed off, manufacturing is even ... well, hotter than white hot?
The overall ISM manufacturing reading rose from 60.8 to 64.7, the highest reading since 1984! The even more leading new orders subindex also rose from 64.8 to 68.0, the highest reading since 2004: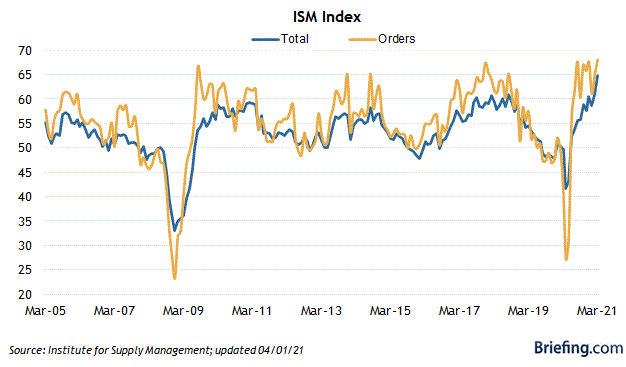 Turning to construction, the Big Texas Freeze showed up in February spending for residential construction, which declined -0.2% for the month, while total construction spending declined -0.8%: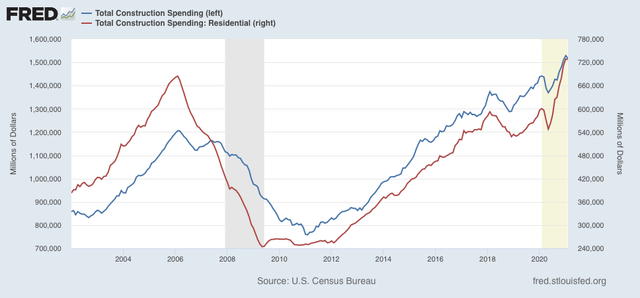 Taking into account inflation - deflating by the PPI for construction materials - neither residential construction spending nor overall construction spending is anywhere near their housing bubble levels of 2005: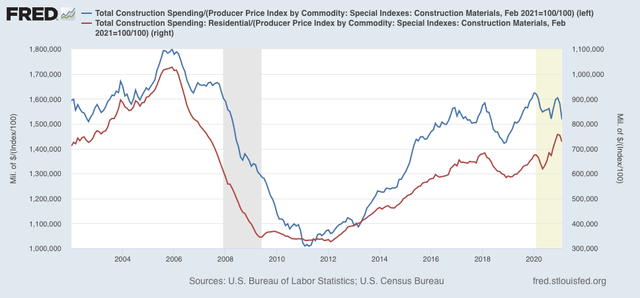 While I am concerned about 2022, as I described yesterday, this year is likely going to be absolutely gangbusters for residential construction spending, which means lots more money flowing through the economy as a whole.
In short, this morning's two reports together show that manufacturing and housing, the two most important leading sectors of the real economy, remain likely to power very strong GDP gains this year.