- by New Deal democrat
This morning's jobless claims report indicated that the trend of "less worse" news, which had temporarily ended, has resumed - but at a snail's pace, and at levels worse than the worst weekly levels of the Great Recession.

On a non-seasonally adjusted basis, new jobless claims declined by 75,974 to 790,021. After seasonal adjustment (which is far less important than usual at this time), claims declined by 33,000 to 860,000, their new "best" reading since the pandemic began. The 4 week moving average declined by 61,000 to a new pandemic low of 912,000: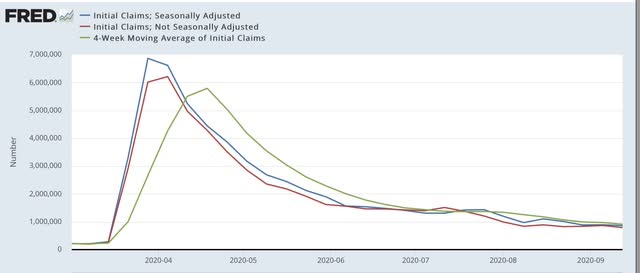 Continuing claims also declined on both a non-adjusted basis by 1,034,052 to 12,321,395, and on a seasonally adjusted basis by 916,000 to 12,628,000, both new pandemic lows: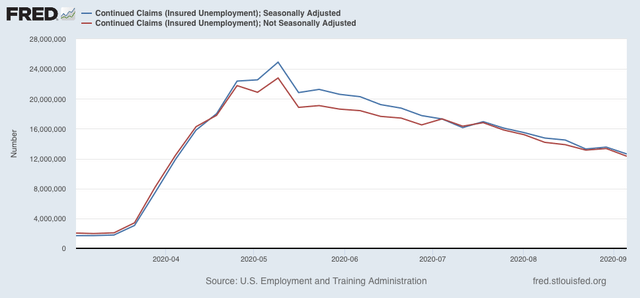 This remains almost exactly half of their worst levels at the beginning of May, and more than 4 million higher than the worst level of continuing claims during the Great Recession.

There has been only slow downward movement in new jobless claims over the past six weeks. As a result, the pandemic shock recession is gradually turning into something much more chronic at very depressed levels.


NOTE: Housing permits and starts were also reported this morning, and the annual report on median household income was released yesterday. I'll post notes on both of these later on.