- by New Deal democrat
As I've said a number of times over the past few months, the lack of an increase in initial jobless claims is the best argument against any oncoming recession. If businesses aren't laying employees off, those same people are consumers who are going to continue to spend, which is 70% of the total economy.
This morning's initial jobless claims report continues the streak. At 203,000, it is the lowest since April. Averaging it with last week, due to the change in Thanksgiving this year gives us 215,000 for the two weeks - right in line with the average for over the past year.
The four week moving average is 217,750, only 7.9% higher than April's low of 201,500 - and below my 10% threshold for concern. The monthly average for November was 216,400, which is -3.7% below last November's, also a positive: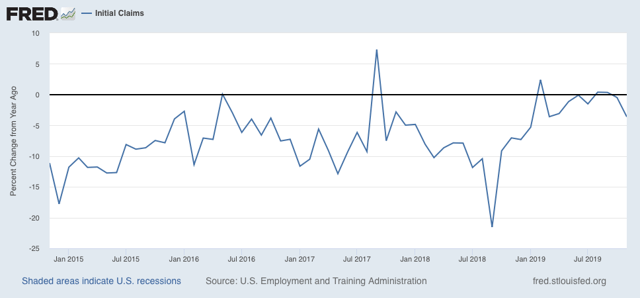 Even the less leading but less volatile 4 week average of continuing claims is only +0.4% higher than one year ago, well below my +5% YoY threshold for concern: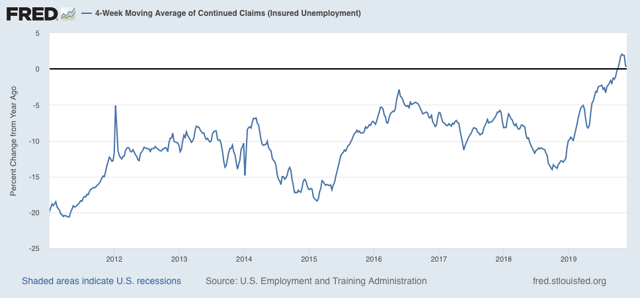 Since initial claims leads the unemployment rate, my anticipation is that tomorrow's jobs report will see unemployment remain at 3.6% +/-0.1%: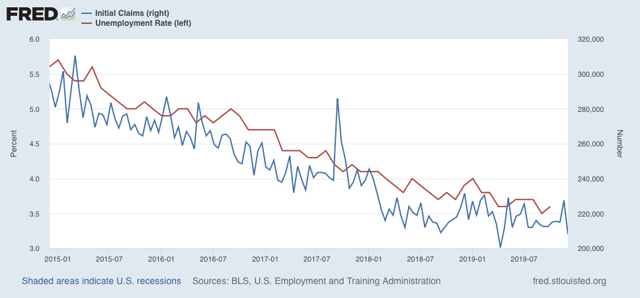 Tomorrow I will also again be particularly interested in manufacturing, residential construction, and temporary employment, the markers for all of which indicated contraction in the past month. Here is the update on temporary jobs from the American Staffing Association: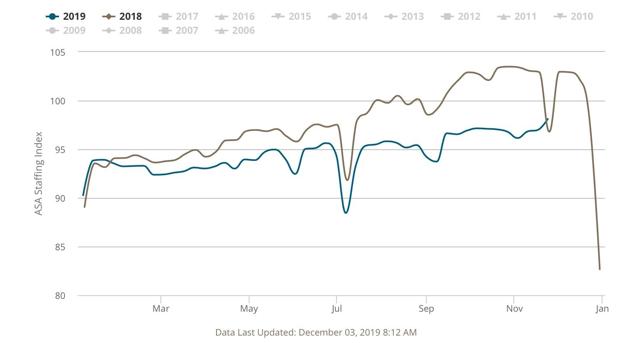 The pattern has been that the initial estimate for all has been positive, with substantial downward revisions in both temporary jobs and manufacturing. So I will be paying extra attention to the revisions in these, and to the goods producing sector in general, tomorrow.