- by New Deal democrat
Although the headlines in the May report for building permits and starts were "meh," the internals suggest that the bottom has probably already been reached. The downside remains that residential construction employment will decline.
First, let's look at the headlines for permits (red) and starts (blue). It appears that permits made their bottom 9 months ago, and starts five months ago: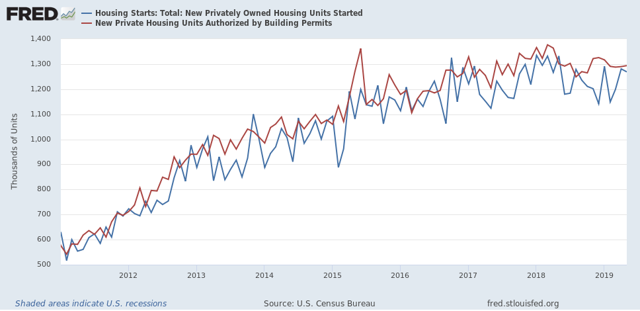 Since starts are much more volatile than permits, I also look at their three month moving average. This is at 1.225 million annualized, a 10 month high.
Single family permits are the least volatile most forward looking measure. These rose off their April low: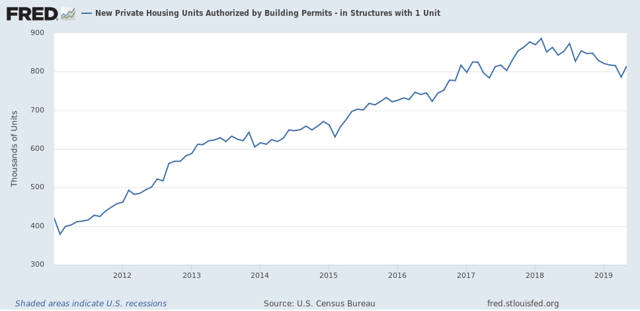 No change of trend obvious yet, but my strong suspicion is that April was the low.
On the negative side, housing under construction (blue in the graph below) went sideways, and housing completions (green) fell by almost 10%: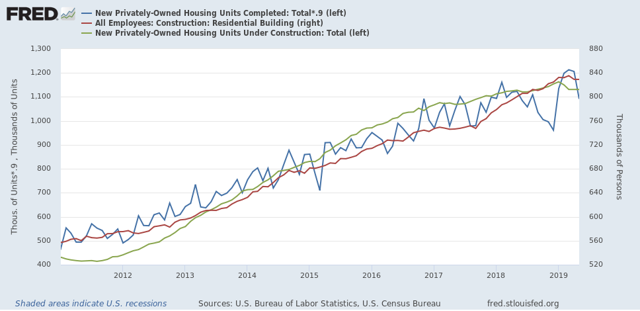 Because residential construction employment (red) tends to turn after construction and contemporaneously or shortly after completions, this morning's report adds to the evidence that there will probably be layoffs in this leading employment sector.
The big economic question at the moment is whether housing will turn around quickly enough and strongly enough to overcome the negative trends that have become apparent in the first half of this year.