- by New Deal democrat
As I wrote on Friday, I strongly suspect that the relatively lackluster 210,000 jobs report for November will be revised substantially higher in the next two months; and I have seen many others pick up on the same thing, so that's good.
In the meantime, let's take a look at what sectors of the jobs market are already in pretty good shape, and which are still hurting.
Overall, jobs are down 3.912 million, or -2.6% since February 2020, right before the pandemic hit. When we divide this between the goods and services sectors, we see that goods-production jobs are down 413,000, or -2.0%, while services providing jobs are down 3.499 million, or -2.7%: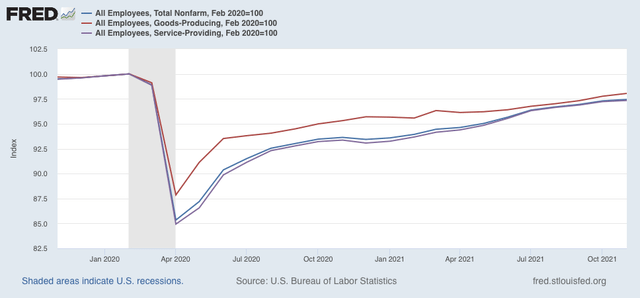 But let's break this down further, between sectors down only slightly, sectors still hit hard, and a few that are actually higher than before the pandemic.
Taking the last first, finance (blue) and residential building jobs (red) are up 57,000 and 49,000, or +0.9% and +5.8%, respectively: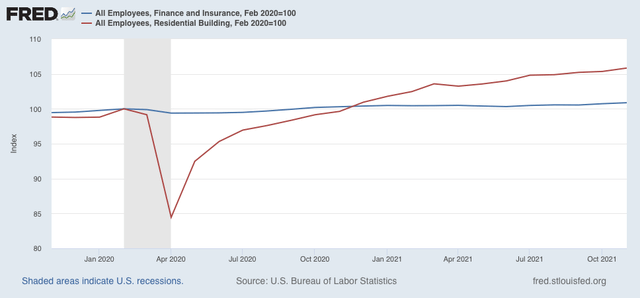 A number of other sectors are only down slightly or relatively slightly from before the pandemic: professional and business services, -69,000 (-0.3%), manufacturing, -253,000 (-2.0%), and total construction, -115,000 (-1.5%), and health care, -450,000 (-2.7%):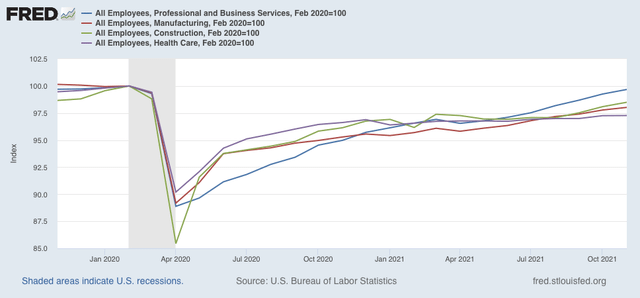 Sectors with moderate losses include educational services, -156,000 (-4.1%), government, -936,000 (-4.1%), and local education, -386,000 (-4.9%):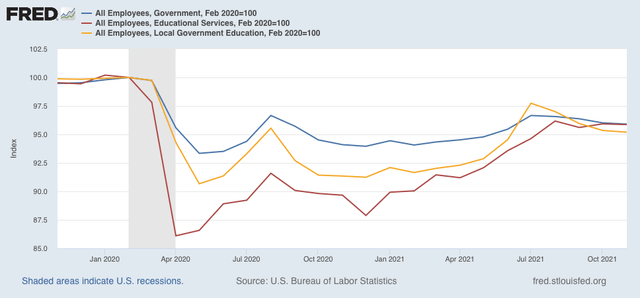 Finally, the hardest hit sectors include leisure and hospitality, -1,334,000 (-7.9%), the food and beverage component of leisure and hospitality, -757,000 (-6.1%), temporary help services, -153,000 (-5.2%), state government education, -198,000 (-7.6%) and mining and logging, -45,000 (-6.5%):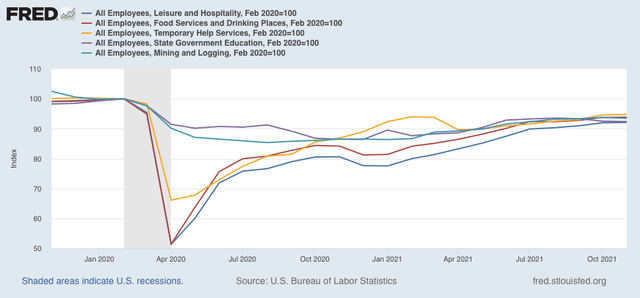 Note some of these overlap or are subcategories of other listed sectors. A few are large numbers but smaller percentage losses (manufacturing, health care), while a few are small numbers but large percentage losses (mining and logging, temporary help, state government education).
In general the sectors that have taken the biggest hit are leisure and hospitality, education, and perhaps surprisingly, health care. What these have in common is that they are where consumers or, in the case of education, government authorities, sense the most danger from the pandemic.
That's probably a big reason why, as Prof. Menzie Chinn wrote over the weekend, real wages for leisure and hospitality workers have risen so much, even comparatively, since the pandemic began: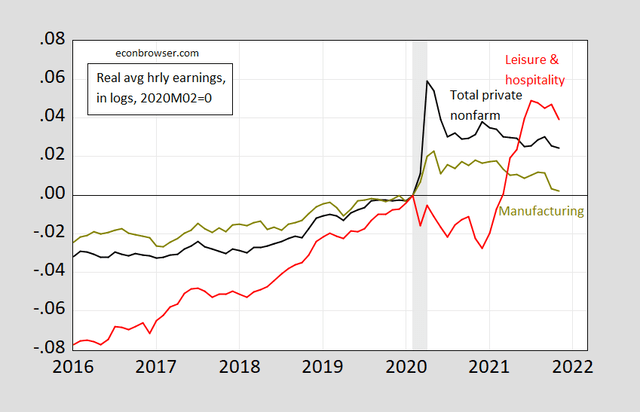 As I headlined Friday, the only thing preventing a complete employment recovery from the pandemic is the pandemic itself.