- by New Deal democrat
Not much economic news today, and I normally don't spend time on the producer price index, but considering the shallow producer recession and whether it will get deeper or not, as it happens the PPI does play into one metric.
Below is a YoY graph of *nominal* manufacturing + wholesale sales (blue) since the inception of the series 25+ years ago vs. the PPI for all commodities (red):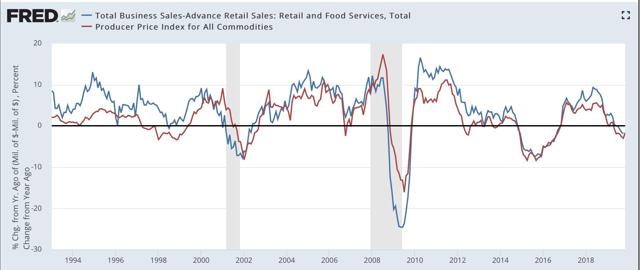 There have only been three times that commodity prices have outpaced producer sales for longer than 2 months during that whole period: late 2002 when economists were worried about a "double dip" recession after 2001, and leading into and during the 1991 and 2008 recessions.
In other words, when commodity price increases outpace sales increases, the producer side of the economy is in trouble.
Now here are the last 20 months including December producer prices: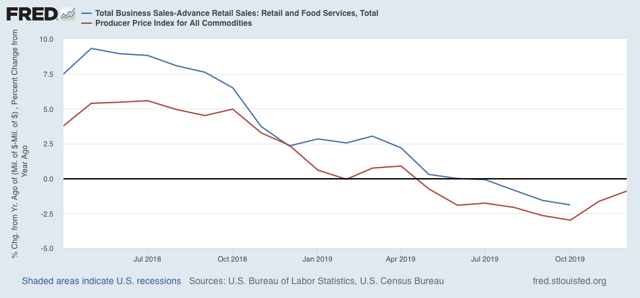 We'll get manufacturing and wholesale sales for *November* tomorrow. But the obvious point is, unless we get significantly better sales numbers than we got one year ago (and November and December 2018 stunk, so it's certainly possible!), producer sales won't have kept pace with producer prices, yet another sign after poor ISM manufacturing and YoY heavy truck sales readings, that the producer side recession has taken hold.
Tomorrow will also give us retail sales, the gold standard for the consumer sector, so stay tuned.