- by New Deal democrat
A couple of weeks ago, I updated the entire list of short leading indicators.
To cut to the chase, those that were negative or trending negative came out of the production sector, while those that were positive were mainly from the consumer sector.
But, regardless of which sector's weakness might give rise to a recession, at some point it would have to be reflected in increased layoffs. As last Thursday's report of initial jobless claims showed, that isn't happening. Since I didn't get around to commenting on this last week, let's take a look now.
At 204,000, last week's number of initial claims is close to the bottom of the number of claims even in the past year. The four week moving average is only 5.5% above the low point set in April: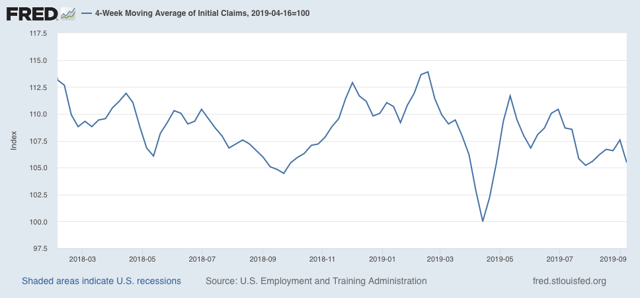 Before a recession, the YoY comparison of initial claims generally moves higher for at least two months in a row. Against very positive numbers in August last year, this year's number was slightly negative, but as shown below (weekly YoY claims in blue, monthly average in red) we haven't violated this rule, and September so far is positive YoY: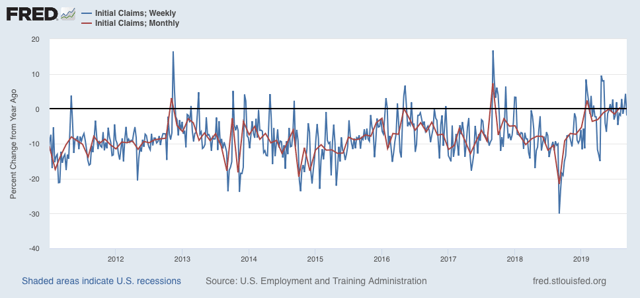 Continuing claims turn a little after initial claims, but are less volatile. The four week moving average of continuing claims is -2.1% below where it was last year: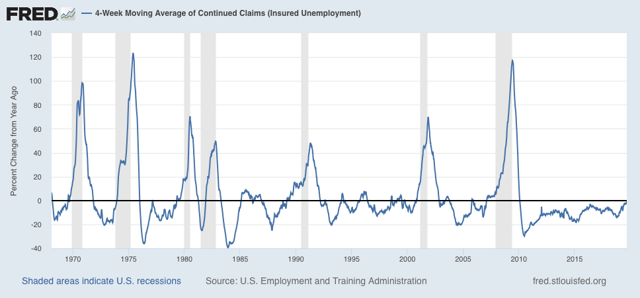 The bottom line is that the trend in jobless claims remains very weakly positive. Like so many other data series I track, the message at this point is "slowdown, no recession."