- by New Deal democrat
The Census Bureau's report on residential construction for June was a decidedly mixed bag. Here's their graph of permits, starts, and completions: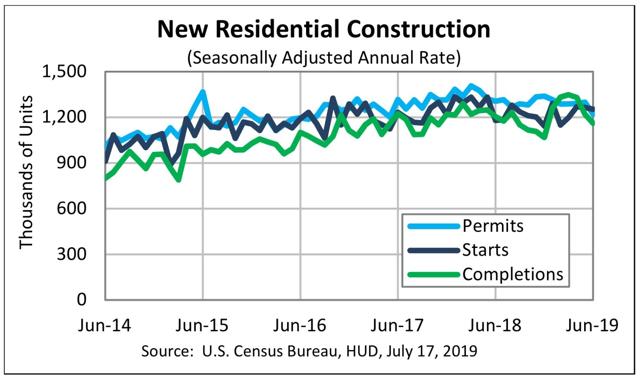 On the positive side, even though starts declined slightly in June, the three month average, which is the best way of looking at this measure due to its noisy m/m readings, improved to the best number in 13 months. Starts are real economic activity, and bode well for 2020. Single family permits (not shown above) - the least noisy of all the leading housing indicators - also improved to 813,000, suggesting that April's reading of 786,000 may have been their low.
On the negative side, total permits declined to 1.22 million annualized, which is the lowest reading in over 2 years, and is -13.2% below their March 2018 peak of 1.406 million. This is a bigger decline than that which preceded the 2001 recession. In other words, it is consistent with what might be seen in advance of a producer-led recession.
Additionally, total completions (green in the graph above) fell to a five month low. Since residential construction employment generally turns shortly after completions turn, this renewed decline in the past several months means that we can expect to see declines in this leading employment sector as well in the next several months.
As I said at the beginning, a very mixed bag. I'll have a more detailed post up at Seeking Alpha probably tomorrow.