-
by New Deal democrat
I submitted a long post on the above to Seeking Alpha. They haven't put it up yet. When they do, I'll link to it here. UPDATE:
Here's the link
.
Long story short: you all know that a year ago I forecast a slowdown by about mid-year this year. Everything except for portions of GDP and jobs has acted in accordance with that forecast.
And, judging by this morning's ADP jobs report for May: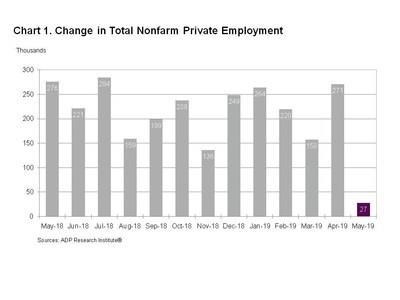 the official jobs report may finally follow suit this Friday.
UPDATE: And
Challenger Grey showed
a large increase in layoffs during May:
U.S.-based employers announced plans to cut 58,577 jobs from their payrolls in May, up 46% from the 40,023 cuts announced in April, according to a report released Thursday from global outplacement and business and executive coaching firm Challenger, Gray & Christmas, Inc.
May's cuts are up 86% from the same month last year, when 31,517 cuts were announced. So far this year, employers have announced 289,010 job cuts, 39% higher than the 207,977 cuts announced in the same period last year.
As usual, clicking on the link and reading should be informative for you, and help me out to the tune of a penny or two.