- by New Deal democrat
Every day brings a bit more evidence in support of the forecast that the Delta wave is rolling out, at roughly the same rate as it rolled in. Meanwhile, this week's report on jobless claims pulled back a bit from last week, but kept the low trend intact.

Initial claims rose 16,000 to 351,000, while the 4 week average declined 750 to 335,750, the latter yet another pandemic low: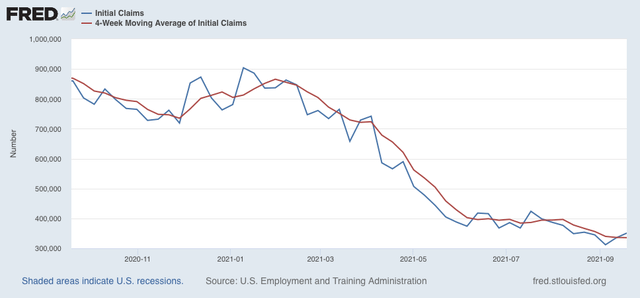 Continuing claims rose from last week's pandemic low by 131,000 to 2,845,000: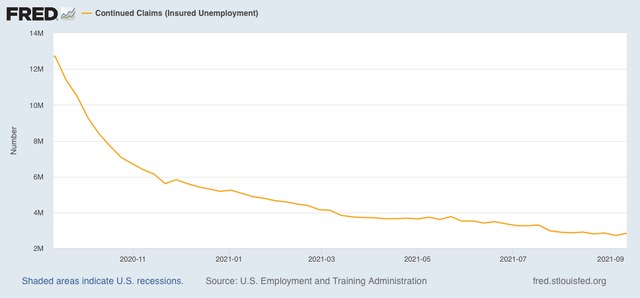 Now that all emergency pandemic assistance programs have ended, watch to see if continuing claims decline precipitously in the next several weeks. Obviously they didn't this week.

Here are both the 4 week average of initial claims and continuing claims from 1983 through the end of 2019 (both normed to zero as of this week's numbers) for comparison: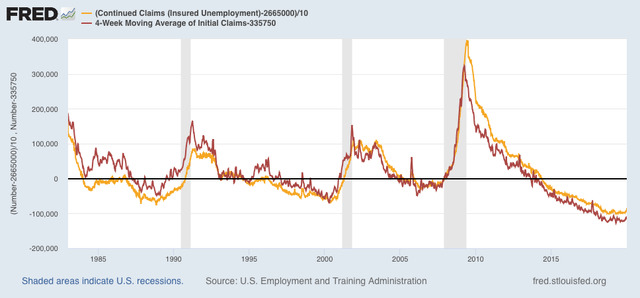 As is easily seen, both numbers continue in typical mid-expansion ranges.

If the 4 week average of new claims drops below 325,000 - I.e., if the numbers drop into completely normal strong expansion territory - I may discontinue weekly pandemic coverage of this metric. If Delta rolls out as sharply as I increasingly suspect it will, that may happen within the next two months.