- by New Deal democrat
New home sales confirmed this morning what we learned from existing home sales yesterday, and from housing permits and starts earlier in the month: in terms of new construction and sales, the housing market has peaked.
To the numbers.... New single family home sales declined -48,000 on a seasonally adjusted basis to 769,000 annually, the lowest level in 11 months (blue in the graph below):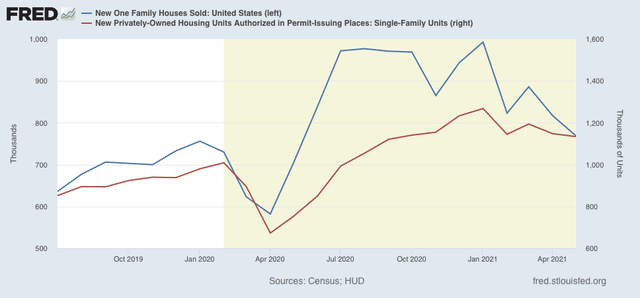 New home sales have declined by nearly 1/4 (-22.6% to be more precise) off their January peak. They thus confirm the decline shown in the much less noisy single family permits series (red).
Median sales prices, however, continue to boom, up 18.1% YoY (blue) vs. 23.6% for existing homes (red):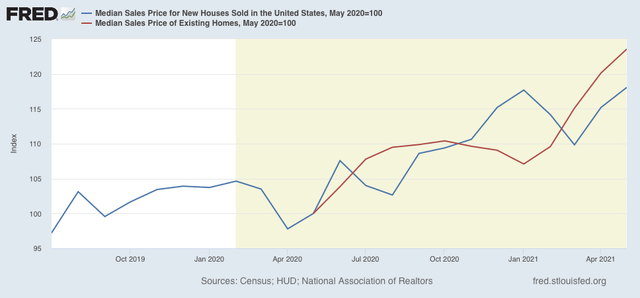 Comparing sales with inventory (gold in the graph below), we can see that sales peak and bottom first (shown YoY in the graph below, but the same is true of the absolute values):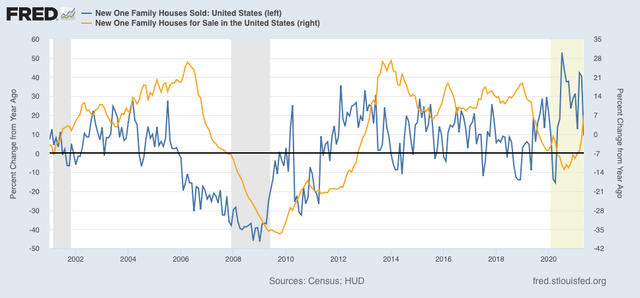 Inventory of new homes for sale bottomed last August and is now up 7.1% YoY.
As I said yesterday, the remedy for high prices is . . . high prices. I expect sales to continue to decline until the price situation is addressed.