From Bloomberg:
Purchases of existing homes dropped 1.2 percent to an annual rate of 4.97 million, the fewest since the National Association of Realtors began keeping the records in 1999. Orders for items made to last several years fell 0.4 percent, the Commerce Department said today in Washington.
There are only two numbers that are important in this report: inventory and months of supply.
Inventory is still sky high.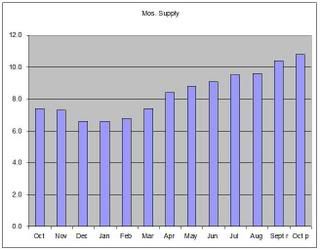 And months of inventory available is still increasing.
And this isn't including any of the projected foreclosures for next year.
Simply put, this is called a "super-glut".