Yesterday I wrote the following:
There is still a ton of bad news out there. Today's home price release is just one of the many problems we are seeing which is driving the market lower. But no market moves down forever. The daily charts all show some type of reversal formation, short-term technical indicators are oversold and the SPYs and IWMs have been moving down for some time. All of these factors indicates a reversal might be in the cards.

Now, I'm not saying we're going to have a rebound with 100% certainty. Chart reading is not an exact science by any stretch of the imagination. And the market will do its best to make an ass out of you at all times -- and the market has plenty of resources to do that.
I have to admit, I was not expecting a day like today by any stretch of the imagination. Here are the 1 day charts: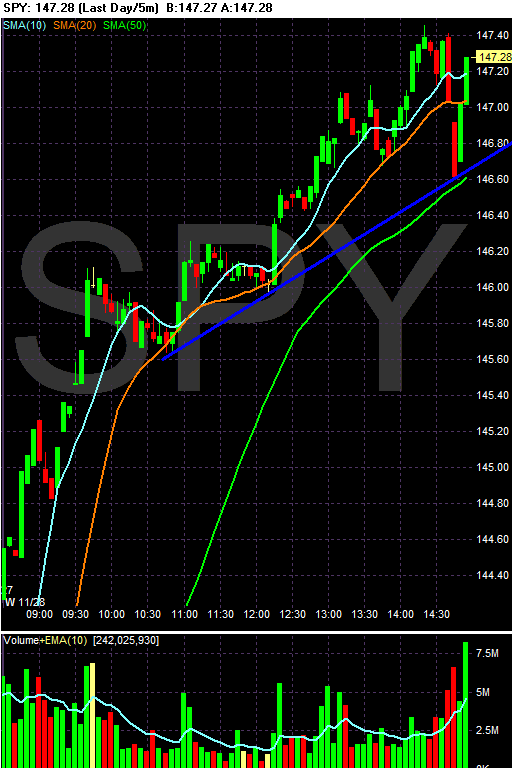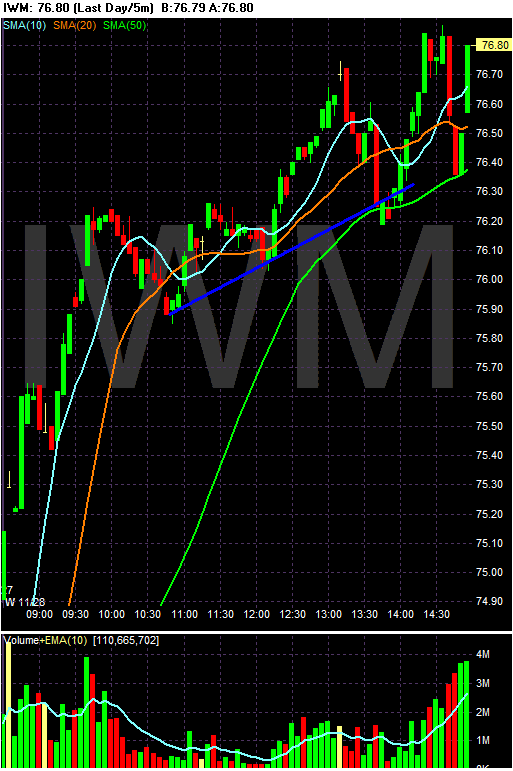 All the indexes gapped up at the open and then continued to run for the rest of the day. What was impressive about today was we didn't have an end of the day sell-off. In fact, if you look at the last 5 bars of each chart above, you'll notice there was a heavy sell-off followed by a big rally. That tells us traders are willing to carry positions overnight which is a good sign.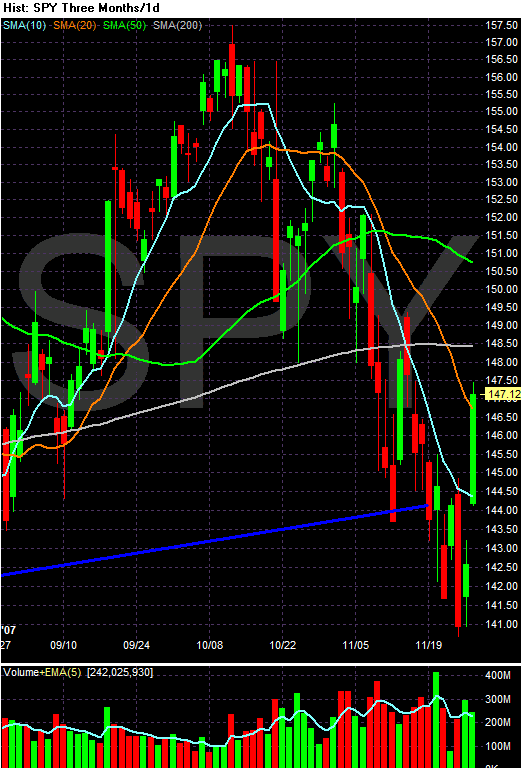 On the daily SPY chart, notice how the index went through the 10 and 20 day SMA in one day. Also note that volume is pretty good. While the index is still below the 200 day SMA, today's move was a big help technically.
For the last few days I've been harping on the QQQQ's consolidation pattern. Well, now we know what direction the market is going to move in, don't we? Notice how today's action moved the index through the 20 day SMA -- a good technical development. But, this index is still trading above the 200 day SMA.
The Russell 2000 moved through the 20 day SMA as well.
I should add an important caveat. The primary reason for today's move was a statement from a Fed governor that implied the Fed may lower rates at its next meeting. This was the primary reason for the move up. There was also a ton a bad news today. Existing home sales dropped again. Durable Goods orders dropped -- again. And the Fed's Beige Book does not paint a very good picture of the economy.
In other words, there isn't a lot of reason to expect this to continue for a long time. The overall market tone is still negative in my opinion.