From the AP:
Consumers, battered by a slumping housing market and a credit crunch, slowed the growth in spending to the smallest amount in four months.

The Commerce Department reported Friday that consumer spending edged up 0.2 percent in October, the weakest showing since a similar increase in June. Individual incomes grew by just 0.2 percent last month, the poorest showing in six months.
From the BEA:
Personal income increased $21.2 billion, or 0.2 percent, and disposable personal income (DPI) increased $14.0 billion, or 0.1 percent, in October, according to the Bureau of Economic Analysis. Personal consumption expenditures (PCE) increased $23.8 billion, or 0.2 percent. In September, personal income increased $50.4 billion, or 0.4 percent, DPI increased $43.2 billion, or 0.4 percent, and PCE increased $33.0 billion, or 0.3 percent, based on revised estimates.
Here's a graph of the last six months of increases.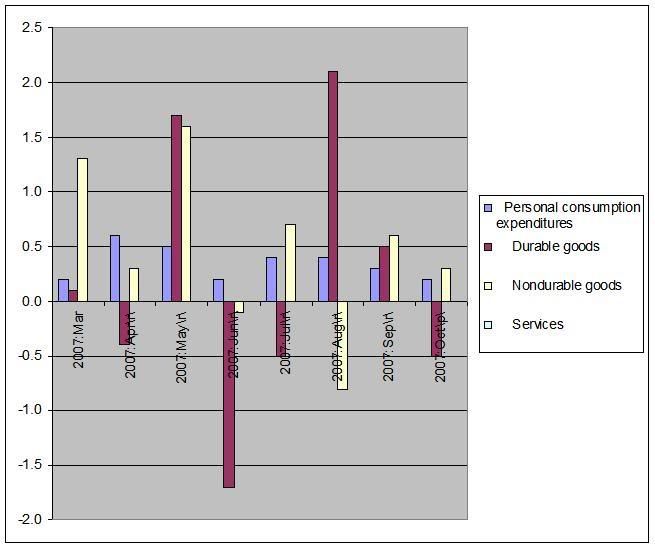 The light blue line is total expenditures. Notice it has declined for the last three months. Also notice there is very little difference between July and August. In effect, we've had four months of problems with this number.
Also notice how the durable goods numbers is jumping around quite a bit. May's number was followed by two months of contraction. August's jump was followed by September's weaker performance and last months decline. Some of this is to be expected; durable goods are goods that last a long time and are therefore more expensive. As a result, cash outlays for them are probably more prone to these types of jumps.
However, I have speculated that durable goods numbers are indicative of consumer sentiment. Because durable goods are more expensive, they are typically more expensive and therefore require financing. As a result, a durable goods order purchase means a financial commitment that requires confidence on the purchaser's part that they can continue to make payments. If a purchaser doesn't think he can make payments over an extended period of time, he is less likely to buy the item. Assuming my statement is correct -- the durable goods purchases are an indication of consumer confidence -- than this number should raise some eyebrows.