There's been a sea change in the Euro/US relationship which can
best be summed up as
The outlook is leading currency traders to temper bets in the euro against the dollar -- not only because euro-zone fundamentals are gnawing away at support for the common currency, but also because a deteriorating forecast will stymie further rate increases there. The Federal Reserve has more room to increase rates after an aggressive easing cycle. The threat of persistent inflation confounding euro-zone policy makers is shared by the U.S. as well.
However, on Wednesday ECD head Trichet reaffirmed his position about a
possible rate hike:
European Central Bank President Jean-Claude Trichet repeated Wednesday that the rate-setting ECB governing council could raise the key interest rate July 3, but declined to comment on policy action further down the road to combat runaway inflation.

Mr. Trichet told the European Parliament Committee on Economic and Monetary Affairs in Brussels that the governing council may raise the ECB's main refinancing interest rate "by a small amount" to 4.25% from 4% currently, to anchor inflation expectations. "I said it's possible," he said, adding that markets participants had given this message the necessary attention.
Trichet has been consistently hawkish regarding interest rate policy.
Let's go to the charts: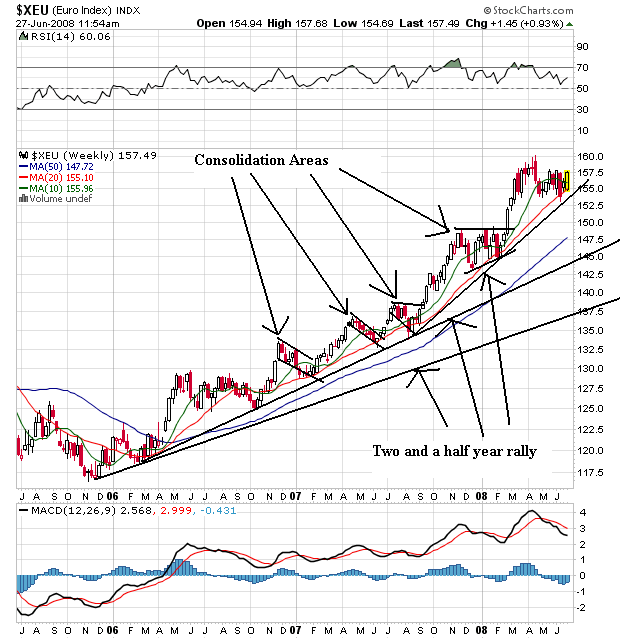 On the weekly chart, notice the euro has been in a consistently rising position. It has moved through areas of resistance, consolidated gains and then moved higher. Also note the very bullish SMA alignment. The 20 and 50 week SMAs are both moving higher. While the 10 week line is currently moving sideways the remainder of the indicators tell us the chart is still in a rally mode. If the 10 week moves through the 20 in a convincing manner, then we'll get concerned.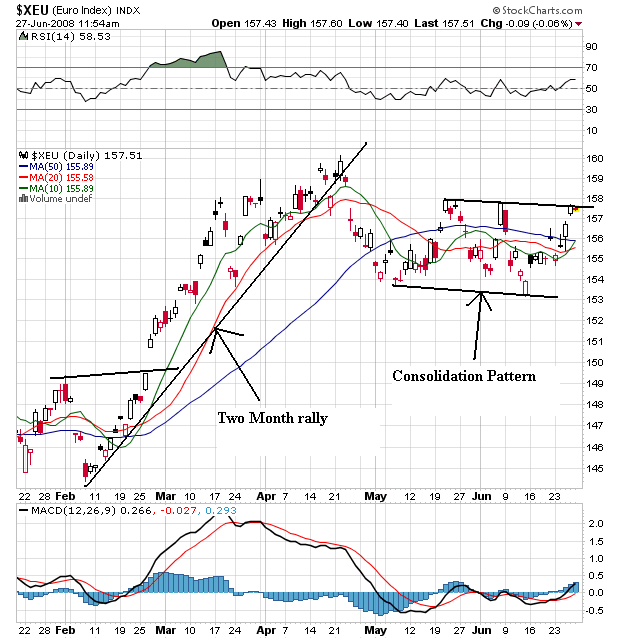 On the daily chart, notice we're still in a consolidation pattern with prices and the SMAs giving a ton of contradictory signals.