As the Fed meets today and tomorrow, let's take a look at the central problem they face (from IBD):
The economy has limped along at an annual growth rate below 1% for each of the past two quarters, and lenders continue to restrict credit.

Yet energy and food prices continue to soar. May consumer prices rose an uncomfortable 4.2% vs. a year earlier.

.....

But the Fed is worried about inflation expectations. Consumers in June expect inflation at 5.1% over the next year, just below May's 26-year high, according to the latest Reuters-University of Michigan survey.

The concern is that workers will demand bigger pay increases to keep up with prices, sparking a 1970s-style wage-price spiral. Inflation expectations, once entrenched, are hard to change.

"Certainly the Fed is scrutinizing inflation expectations because they don't want to get a wage-price spiral going, and so far it has not," Johnson said, adding that "the weak economy is preventing that from developing."
Over the last few weeks, we've seen increased "tough talk" from the Treasury and Federal Reserve about the dollar. This helped to give the dollar a bump up in overall price. But the basic problem still remains. First, growth is slowing: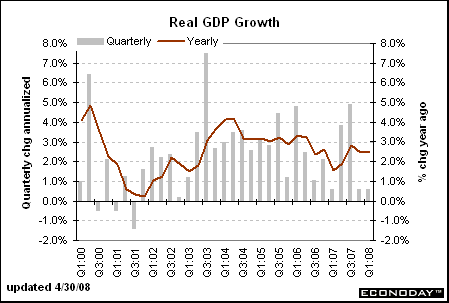 While the year-over-year number is steady, the last two quarters have shown a sharp decrease. This is expected to continue as the combination of the housing market slowdown and credit contraction lower consumer confidence, which in turn lowers consumer spending.
At the same time, he year-over-year change in CPI and PPI are uncomfortably high putting pressure on inflation hawks. So long as oil remains at an elevated level expect this situation to continue.
Short version: being a central banker would stink right now.