From Bloomberg:
Retail sales in the U.S. increased more than forecast in September, a sign that consumers will help the economy avoid a recession even as the housing slump deepens.

The 0.6 percent increase followed a 0.3 percent gain the prior month, the Commerce Department said today in Washington. Purchases excluding automobiles rose 0.4 percent.

The report will ease concern the collapse in housing and a decline in consumer confidence will cause spending, which accounts for more than two-thirds of the economy, to retrench. Gains in jobs and wages are giving Americans the means to weather lower home values and reduced access to credit, economists said. Treasuries dropped after the release.
Here are the tables from the Census Bureau
The underlying growth is a lumpy:
Gasoline sales were up 2%. Health was up 1%. Electronics and appliances were up .9%.
Regarding the increase in gas sales, remember that gas prices are higher now than they were a year ago.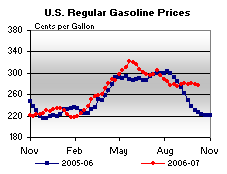 CNBC noted:
Sales at gasoline stations also rose strongly in September, up 2 percent following a 2.6 percent drop in August. However, this increase primarily reflected the fact that pump prices were rising last month after having declined the previous month.
But general merchandise was down .1%, department stores were down .5%, and miscellaneous store retailers were down 1.3%.
The big news came from the auto sales, which increased 1.2%.