From the Street.com
Retailers were reporting sluggish September sales Thursday, with clothing sellers posting particular weakness and several warning of earnings shortfalls.

Many companies were quick to blame warmer weather for the lackluster results, saying high temperatures kept fall clothing items on the shelves. Broader-scale department-store chains performed weakly, with giants such as J.C. Penney (JCP - Cramer's Take - Stockpickr - Rating) and Nordstrom (JWN - Cramer's Take - Stockpickr - Rating) slashing their profit views.

One of the few bright spots came from retail giant Wal-Mart (WMT - Cramer's Take - Stockpickr - Rating), which posted a slight uptick in sales but offered a rosier profit forecast for the third quarter.

Wal-Mart's same-store sales rose 1.4% in the U.S., slightly shy of analysts' target for a 1.8% rise. Still, the company lifted its third-quarter earnings forecast to 66 cents to 69 cents a share from analysts' prior forecast of 62 cents to 65 cents. Analysts, on average, predicted earnings of 63 cents a share.
Here's a chart of retail sales from
econoday.
The chart is for last month's release. Tomorrow we get information from the Census Bureau.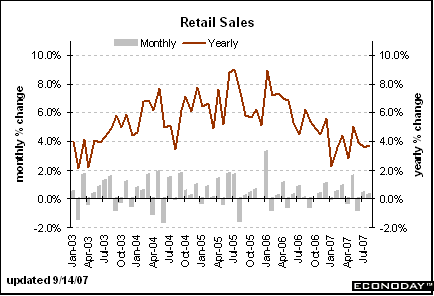 However, personal consumption expenditures from the Bureau of Economic Analysis have increase the last 2 months. Here are the last few monthly totals at a seasonally adjusted annual rate in chained 2000 dollars.