From the BEA:
Personal income increased $40.2 billion, or 0.3 percent, and disposable personal income (DPI)increased $37.2 billion, or 0.4 percent, in August, according to the Bureau of Economic Analysis. Personal consumption expenditures (PCE) increased $54.8 billion, or 0.6 percent. In July, personal income increased $61.5 billion, or 0.5 percent, DPI increased $60.3 billion, or 0.6 percent, and PCE increased $37.3 billion, or 0.4 percent, based on revised estimates.
From Bloomberg:
Consumer spending in the U.S. rose more than forecast in August, a sign the fallout from a weaker job market and collapse in subprime lending has yet to reach the biggest part of the economy.

The 0.6 percent rise in spending was the biggest in four months and followed a 0.4 percent increase in July, the Commerce Department said today in Washington. The Federal Reserve's preferred measure of inflation cooled.

Lower gasoline prices, auto-dealer discounts and a jump in air-conditioning use during last month's hot spell lifted demand, economists said. Smaller price increases give Fed policy makers room to reduce interest rates again should job losses and declines in home values lead to a deeper slowdown.

``Consumers were out in force in August even though we had the credit crunch'' mid month, said Chris Rupkey, senior financial economist at Bank of Tokyo-Mitsubishi UFJ Ltd. in New York, who correctly forecast the gain in spending. ``Inflation is behaving quite well.''
Here is a chart of chained (inflation-adjusted) personal consumption expenditures.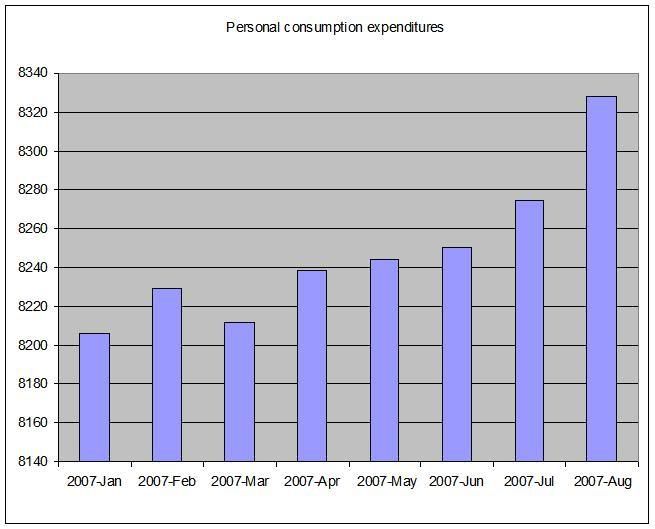 Here is a chart of the month-to-month percent change in the chained dollar figures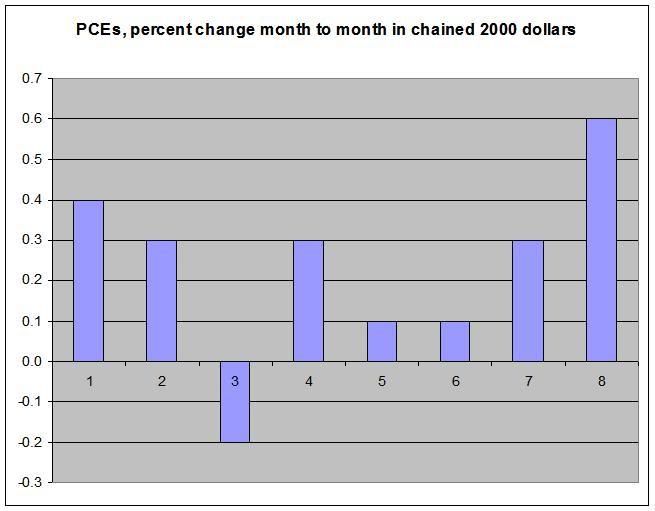 The big reason for the jump was a 2.8% increase (in chained 2000 dollars) of durable goods. However, this figure has been jumping around quite a bit: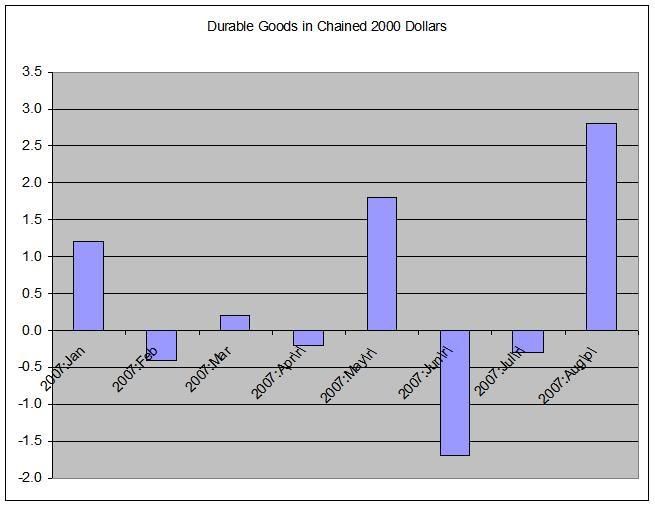 In general, these are very good numbers. Last month's increase was good and this month's increase is better. However, I would caution that the big jump is from durable goods. Considering these are usually more expensive items that require financing, we need to look with caution to next month's numbers.