From Bloomberg:
U.S. life insurers are in talks with the government for potential investments as companies jockey for the remaining $90 billion of the $250 billion set aside to prop up ailing financial companies.

The Treasury has been ``asking us how we can fit into the program,'' said Jack Dolan, spokesman for the Washington, D.C.- based American Council of Life Insurers, declining to name companies that may participate.

Life insurers, including MetLife Inc. and Prudential Financial Inc., have lost more than half of their value this month on concern that investment declines will squeeze liquidity and force them to raise capital. American International Group Inc., once the world's largest insurer, ceded control to the U.S. on Sept. 16 after losses from bad bets tied to housing.
Here's what everyone is concerned about:
The reason for the concern is justified. Life insurers are some of the largest institutional investors on the planet. They take premiums, investment them over multiple times frames and then pay-out the policy after many years of compounded growth. However, the stock market has taken a big hit over the last few months. In addition, institutional investors are also large purchasers of bonds/fixed-income products. As a result, all of the write-downs over the last years have created some problems for the industry.
Take a look at some charts from the industry:
Metlife: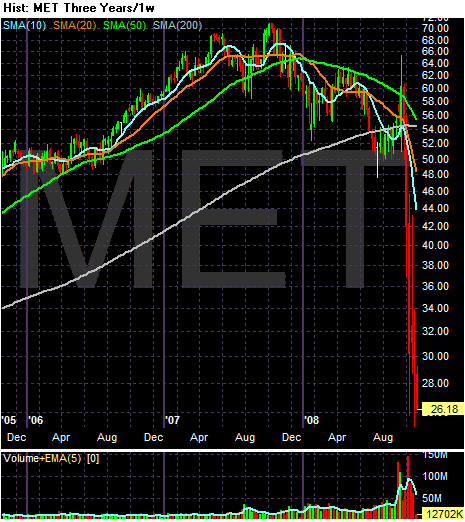 Prudential:
This are not encouraging charts.