From the WSJ:
General Motors Corp. said its third-quarter vehicle sales dropped 11% world-wide, the latest indication that growth overseas has stopped offsetting declining sales in North America.

GM, marking its third straight quarterly drop, sold 2.11 million vehicles in the quarter. That pushed GM, until recently the world's largest auto maker by sales, further behind Toyota Motor Corp., which last week reported third-quarter global sales of 2.24 million vehicles, down 4%.

In North America, a slumping U.S. market and a consumer shift to smaller cars from trucks, on which GM depends for much of its revenue, are hurting the auto maker. Until this year, overseas growth had kept GM's total vehicle sales rising, but sales in Western Europe have slid and key emerging markets show signs of weakness as economic and credit turmoil hurt consumer confidence.
The markets have had bad feelings about these companies for awhile. Note the following charts for GM and Ford: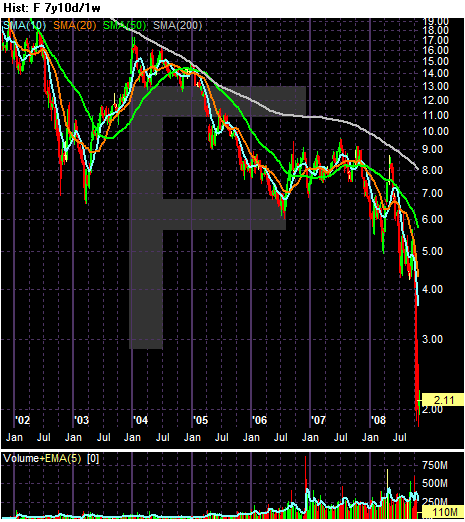 Still -- let's lend these guys some money because they deserve it.