In
yesterday's market wrap,
I noted the technical picture was not good. With the exception of the Ambac rally last week, the markets were in clear sell mode. The daily charts were deteriorating as well. First the Russell 2000 broke through the lower part of a consolidation triangle. This was followed by the QQQQs a few days later. Finally, the SPYs broke through technical support of their month long trading range. Simply put, the markets were deteriorating from most speculative to least speculative market sectors.
Then the Fed announces a $200 billion dollar cash injection. I seriously doubt that last night all the central banks made phone calls to each other to set this up. But I have to wonder if there was a plan to put this into effect at a technically important point. It is without a doubt incredibly fortuitous timing on the Fed's part. Basically, the Fed just saved the market's bacon with today's move.
Anyway, here are the daily charts. Notice the Fed has saved the day for the markets.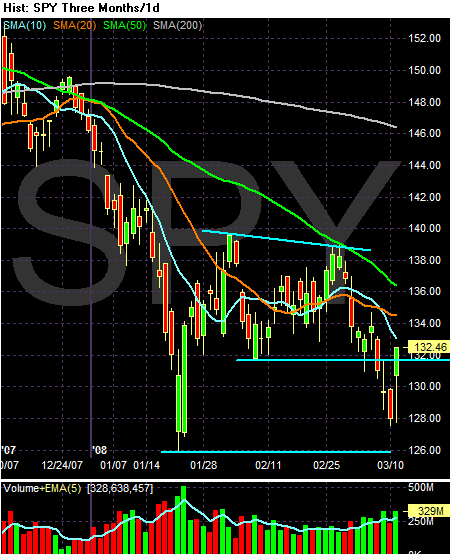 The SPYs rose over their previous technical support on high volume. The high volume is a good sign as it shows increased interest in the market.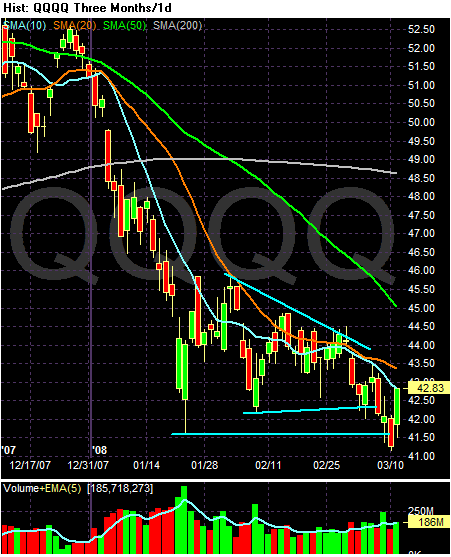 The QQQQs clawed their way over technical resistance established from their consolidation triangle.
Instead of crashing though support, the IWMs rallied back today.