From CBS:
Gold futures topped $900 an ounce for the first time ever on Friday on speculation that the Federal Reserve will further cut its key interest rates, weakening the value of the dollar and increasing the appeal of gold as an investment haven.

Gold for February delivery gained $6.5 to 900.1 an ounce in mid-morning trading on the New York Mercantile Exchange. It was last up $5.4, or 0.6%, at $899. Gold closed Thursday's trading at a record closing level of $893.6 an ounce.

In a speech to a business group in Washington, Fed Chairman Ben Bernanke said "In light of recent changes in the outlook for and the risks to growth, additional policy easing may be necessary," Read text of Bernanke's remarks.

........

The dollar index, which tracks the value of the greenback against a basket of other major currencies, earlier dropped to 75.785, the lowest in one week. It was last up slightly at 75.975.
But remember --
there is no concern about inflation, despite Gold's chart.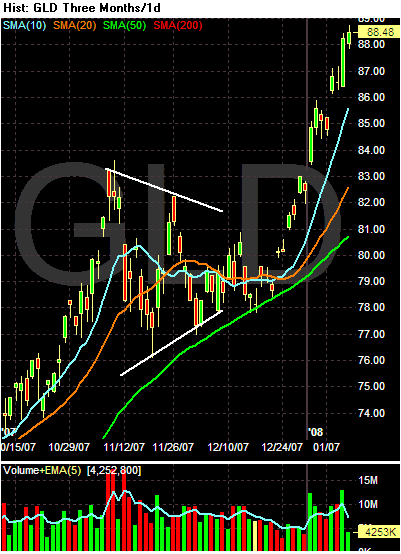 Note the following:
-- There have been five upward gaps since mid-December
-- Prices are higher than all the simple moving averages (SMAs)
-- The shorter SMAs are higher than the longer SMAs
-- Prices have clearly broken out from their triangle consolidation of November/December
And the dollar is still in a multi-year downtrend.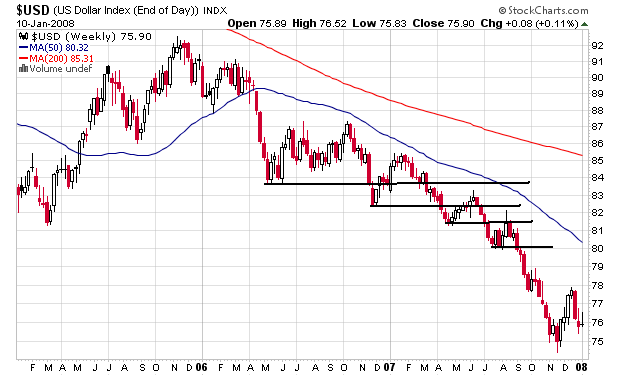 Note the following:
-- Prices are below all the SMAs
-- The shorter SMAs are lower than the longer SMAs
-- Prices are below the 200 day SMA
-- There is a clear, multi0year pattern of lower lows and lower highs.
Expect both of these trends -- higher gold and a lower dollar -- to continue is the Fed continues cutting interest rates.