What a difference a day -- and more speculation of a rate cut -- makes.
As the
Briefing noted:
Onward and upward remains the driving mantra heading into the final hour of trading. With all eyes on Bernanke this week ahead of his opening remarks at a Fed symposium -- a speech we don't believe will offer as clear-cut a signal about the Fed's next move as some on Wall Street are hoping (i.e. there won't be a Q&A session) -- the Fed Chairman reportedly telling Senator Schumer the Fed is ready to "act as needed" has given stocks an added boost.

Even though the letter was dated on Monday, the Fed also reiterating its commitment to ensure financial markets have adequate liquidity serves as a reminder about the surprise cut in the discount rate on August 17 that reduced the probability that the liquidity crunch would result in a recession.
This is nearly the exact same statement the Fed made about a week ago through Chris Dodd. This has reassured the markets that a Fed cut is in the works.
Here's the 2-day, five minute chart of the SPYs. Notice a few things.
1.) Volume picked-up throughout the afternoon. This simply means the buyers were getting more excited both by the actual market action and the possibility of a rate cut.
2.) The market closed over yesterday's open. Technically, this is pretty important.
Here's a three day chart. I put this up because the market formed a head and shoulders pattern (which you can see outlined by the arrows). However, most of the upward play from this pattern is probably already worked into the current closing price.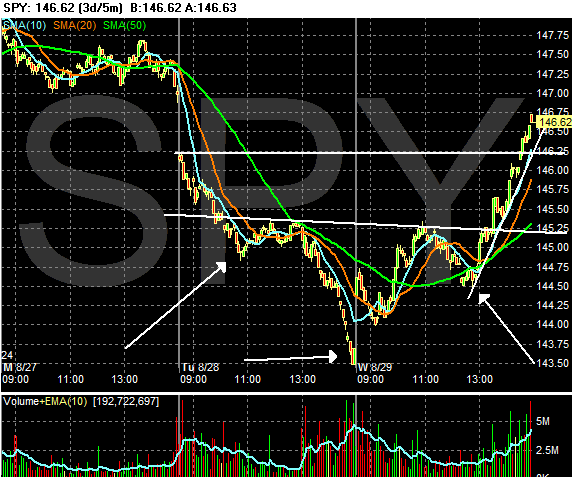 Here's the 3-month daily chart. Today's volume wasn't that spectacular. That's usually a big warning sign to me. I like seeing buyers in an upward trending market. But the recent volume figures just aren't cutting it for me.
The good news from today's action is buyers seem to be more than willing to come into the market to buy on dips right now. That helps to prevent multi-day slides. But the lack of volume indicates there aren't that many buyers right now. In other words, I'm not seeing an "all clear" sign from the market in any way.
Yesterday I called for a double-bottom. I'm still holding to that call right now. We've only had about a week or so without negative news from the mortgage market. We need at least another week before we can move higher.