From IBD:
The nationwide average price at the pump shot up 10 cents last week to $3.02 a gallon, the most since mid-Aug. Gasoline prices have soared as refinery woes limit already tight supply and demand ramps up for the summer driving season. Gas futures rose 3.4% — 18.6% in April — to $2.4405. June gas closed nearly flat Mon. at $2.2594. June crude fell 75 cents to $65.71 a barrel.
The primary reason for this is a continued dwindling of gas stockpiles. Here is a chart of national gasoline inventory from the Energy Department's
"This Week in Petroleum".
Notice the clear downward trajectory over the last few months.
Here's a chart of gas prices from the same report.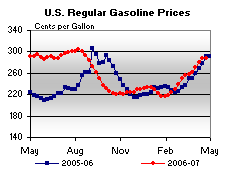 Note that prices were about this high at the same time last year. However, this year is different because the US economy has had about a year of sub-par growth and a big housing slowdown. These two factors may have changed consumer perception to make the $3.00 prices feel more expensive this year and forcing consumers to slowdown their spending a bit more.