From This Week in Petroleum:
Gasoline stockpiles are still decreasing.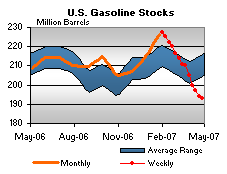 And prices are still increasing
Gasoline prices rose sharply for the week of April 30, 2007, increasing 10.2 cents to 297.1 cents per gallon. Prices are 5.2 cents per gallon higher than at this time last year. All regions reported price increases. East Coast prices were up 8.2 cents to 291.7 cents per gallon. The largest increase was in the Midwest, where prices jumped 15.0 cents to 292.5 cents per gallon. Prices for the Gulf Coast rose 9.8 cents to 285.3 cents per gallon, while Rocky Mountain prices increased 11.3 cents to 295.7 cents per gallon. West Coast prices were up 5.9 cents to 327.7 cents per gallon. The average price for regular grade in California was up 4.3 cents to reach a record price of 335.9 cents per gallon, 15.7 cents per gallon above last year's price.
The short story is simple: as supply decreases, prices increase.
In addition, notice the rapid and steep drop in inventories. Oil refiners are going to have to make some serious production moves to add enough gas to the supply chain to satisfy summer demand.
Finally, these price increases are going to add inflationary pressure, which is further going to back the Federal Reserve into a painful policy corner.