- by New Deal democrat
The secular rise in the price of gasoline from a low of $0.80 in 1999 to $4.25 in 2008, and its continual high price over $3.20 for the last 2 1/2 years is one of the big overlooked stories of the great recession and its aftermath.
At the moment, with concerns about the middle east receding somewhat, the price of gas has declined almost 10% from one year ago at this time. Here's the graph of the YoY trend since the secular price increase started: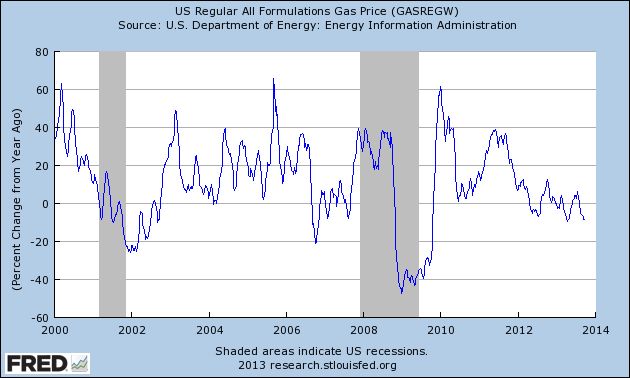 We've only had this kind of price retreat towards the end of both of the last recessions, and also during the weakness of late 2006. This respite is possibly goiong to give us consumer price inflatioin of less than 1% YoY for September. That would be the lowest outside of the great recession, and a temporary help to consumers.