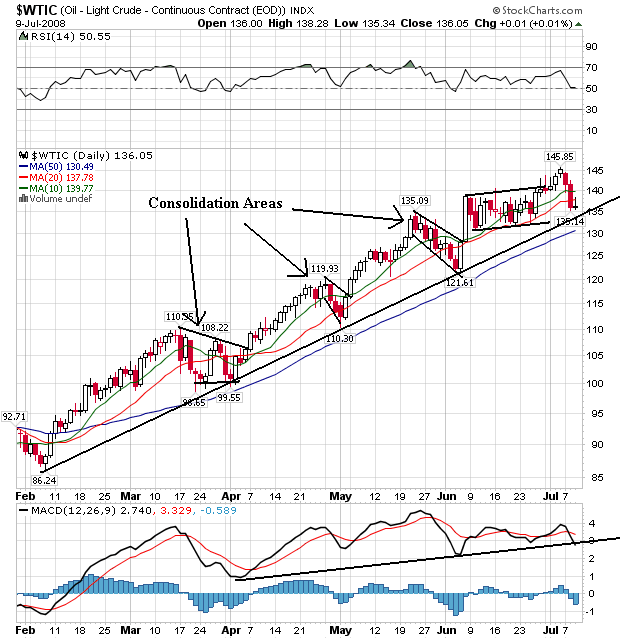 For all the talk about the commodity sell-off this week, we're still in a bull market. Notice the following:
-- Prices are still above the upward sloping trend line that started in mid-March
-- All the SMAs are moving higher
-- The shorter SMAs are above the longer SMAs
-- Looking at the history of this chart, notice that during corrections prices have moved through the 10 and 20 day SMA to between the 20 and 50 day SMA and then corrected. While the past is not a guarantee of future performance, there is no reason to think this won't happen again.
Let's look at some other
fundamentals in the market: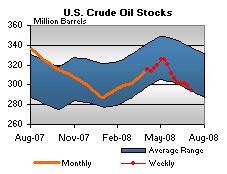 Crude oil stocks are still low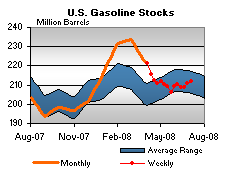 Gas stocks have been rising.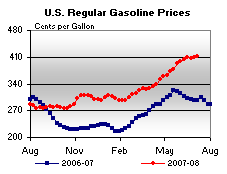 Gas prices are still inching higher, as are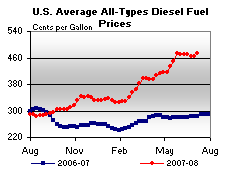 Diesel prices, although it could also be argued that gas and diesel prices might be plateauing. However,
Once again, the U.S. average retail price for regular gasoline climbed higher into record territory, increasing 1.9 cents to 411.4 cents per gallon. Prices rose to record highs in each region with the exception of the West Coast where for the second week, the price dropped slightly. On the East Coast, the price increased 2.2 cents to 407.9 cents per gallon. In the Midwest, the price went up 2.8 cents to 405.9 cents per gallon. Despite an increase of 3 cents, the Gulf Coast price remained the lowest of any region and continued to be the only region where the price remained under $4 at 395.8 cents per gallon. The price rise of 3.1 cents to 406.5 cents per gallon in the Rocky Mountains was the largest gain of any region. The West Coast price fell slightly, dropping 1.6 cents to 444 cents per gallon. Nonetheless, the price remained more than 36 cents higher than any other region and 136.0 cents above a year ago. The average in California also declined somewhat, going down 2.3 cents to 455 cents per gallon.