First, here is a long term chart of oil: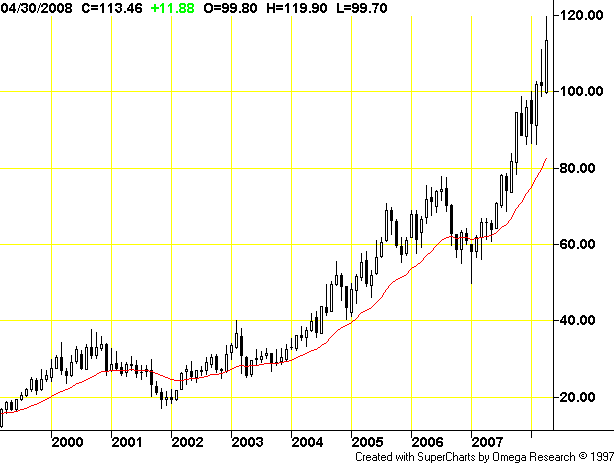 Does anybody see a trend here? Anybody? It sure looks to me like oil is in the middle of a multi-year bull market, intensified by the economic growth of two of the worlds largest countries India and China. For those of you in the economic forecasting department at Ford that's called "an increase in demand" and it means prices will go up. At some point prices will become so high that people might want to purchase a more fuel efficient vehicle,
like say a Prius.
Toyota Motor Corp (7203.T: Quote, Profile, Research) said on Thursday that cumulative sales of its Prius hybrid car had topped 1 million units worldwide since its launch just over a decade ago.

The Prius, the world's first mass-produced gasoline-electric hybrid car, first went on sale in Japan in late 1997 and in other markets in 2000. Toyota remains the leader in hybrid sales, with Honda Motor Co (7267.T: Quote, Profile, Research) a distant second with its Civic model.

.....

By slashing production costs for the hybrid system, Toyota has said it would make the technology available across its line-up, with an aim to sell at least 1 million hybrid vehicles annually soon after 2010.
Yet, the US auto industry made their bed with ..... trucks and SUVs which aren't exactly the most fuel efficient models on the planet. As a result, we get stories
like this:
Ford Motor Co.'s plan to return to profitability got run over by a truck.

The rise of gasoline prices toward $4 a gallon is causing a major shift in the U.S. auto industry that threatens to push the Big Three auto makers and some of their rivals to a new level of peril. In recent weeks, sales of pickup trucks and sport-utility vehicles -- already falling in recent years -- took an unexpectedly sharp tumble.

Those declines triggered a surprise announcement by Ford on Thursday that it's now "extremely unlikely" the company will return to profitability in 2009, as it previously predicted. Just last month, Ford was hailed by the market after it reported an unexpected $100 million in first-quarter net income.

In a Thursday conference call, Chief Executive Alan Mulally said the industry has "reached a tipping point" and that the falling truck sales represent a long-term shift in the U.S. auto market, not a short-term dip.

"We saw real change in the industry demand for pickup trucks and SUVs in the first two weeks of May," Mr. Mulally said.

On Thursday, Ford said it will cut truck and SUV production by as much as 40% in the second half of this year, compared with the year-earlier period. Previously, Ford had hoped to get a second-half lift from the launch of a redesigned F-150 pickup truck. The F-150 is the top-selling vehicle in the U.S.
If the downfall was caused by a random catastrophe I'd have more sympathy. But this has been right in front of them for sometime now. Yet according to the article Ford was banking on a redesigned F-150 truck? At a time when Prius sales are kicking their ass? These guys deserve to fail. It also explains why Toyota's stock is at 100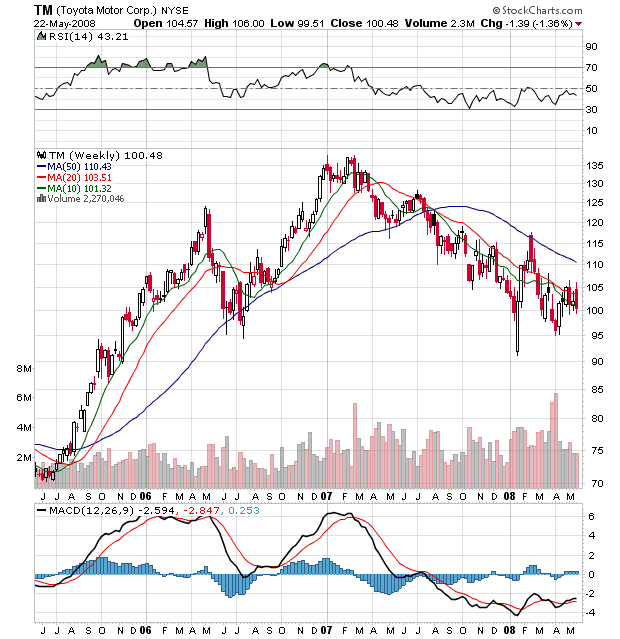 And Ford is at 7.5