Let's start with a long-term chart of the dollar:
Remember we're dealing with an incredibly weak chart. Prices have been dropping for the better part of to years, with prices continually breaking through downside support and making new lows. This had been going on for two years -- long before the economy started to slow. That means traders saw fundamental problems with the economy long before big drops in GDP started to show up.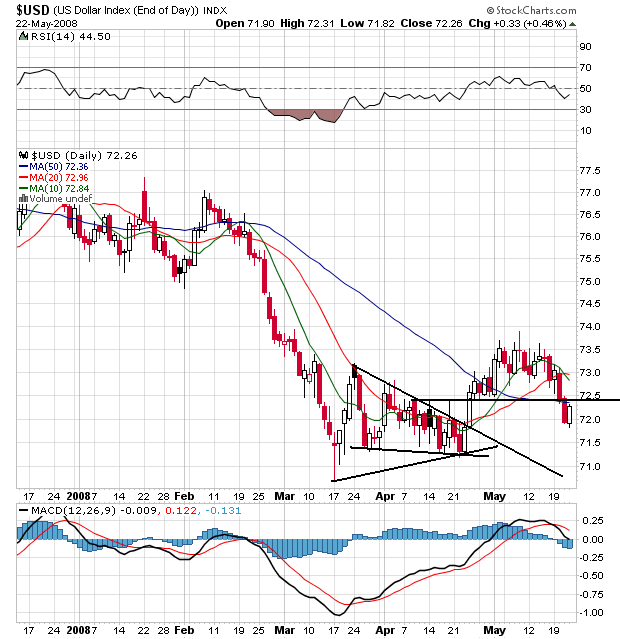 On the daily chart, notice that Prices formed a consolidation triangle from mid-March to the end of April. Then prices rallied out from that pattern. However, prices have had a hard time maintaining any upside momentum. Prices have now dropped below all the SMAs. Also note the 10 day SMA has crossed below the 20 day SMA and the 50 day SMA is at best even. A few weeks ago, the general consensus was for the dollar to rally. Now it doesn't look that hot.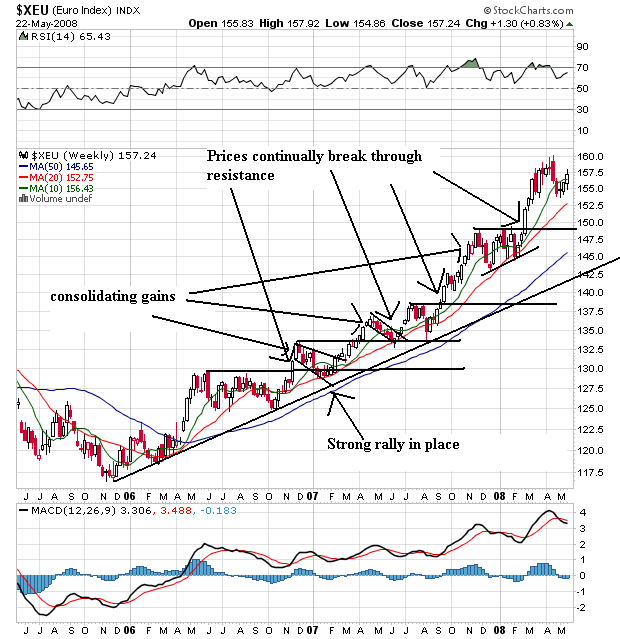 The Euro has been the direct beneficiary of the dollar's drop. Notice the euro is in the middle of a multi-year rally with a strong uptrend in place. Also notice that as prices rallied, they also consolidated their gains in several places, allowing traders to digest price action and plot their next move.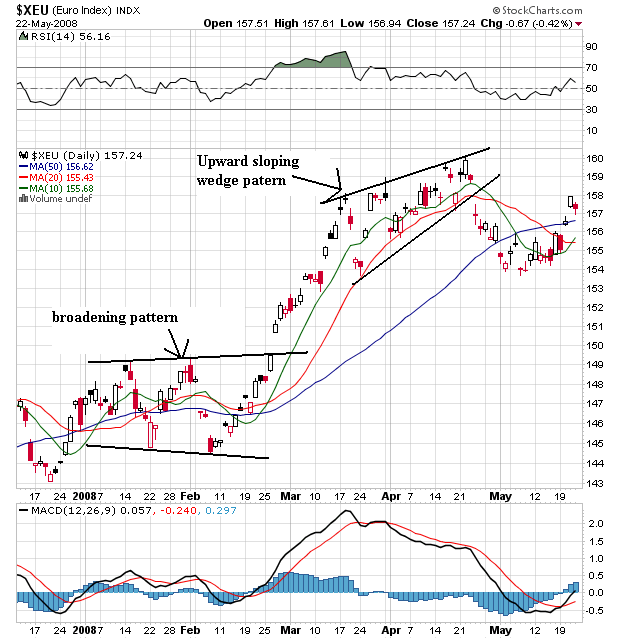 On the daily euro chart, notice the broadening pattern at the beginning of the year and the upward sloping wedge pattern from the end of March to the end of April. Prices dropped from there and fell below the SMAs. But notice how the euro has bounced back and moved through all the SMAs. Also note the 10 day SMA has moved through the 20. This chart is turning around, although it's not time to say with confidence it's completely bullish.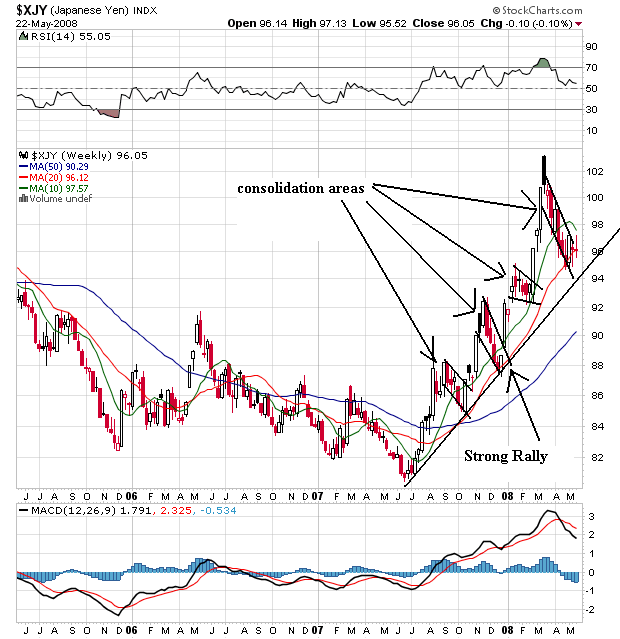 On the weekly yen chart, notice the strong rally that started in the middle of last summer -- right before the US market started to tank hard. Also notice that as prices have rallied, they have also fallen back in several triangle patterns to consolidated gains. Finally, notice how the week chart uses the 20 week SMA as support.
The yen broke through upside support in mid-April, but formed a solid downward sloping channel starting in mid-March. Since the beginning of May prices have been moving sideways as traders await the next big move.
So -- what can we discern from all this?
1.) The dollar's "comeback rally" isn't shaping up that well.
2.) The euro may be turning around, but we can't make a solid call yet.
3.) The yen is waiting to see what happens.