Let's look at what got us into this mess.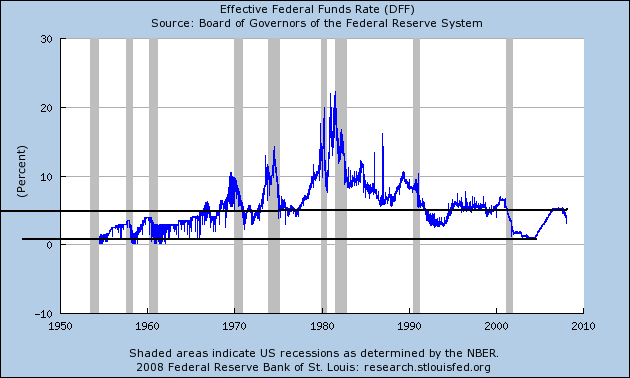 Look specifically at the rates from the early 2000s. I drew a line from those levels all the way back to the beginning of the chart. Notice that rates were not that low for about 40 years.
Let's look at what else happened during that time. Here is a chart of total household debt outstanding: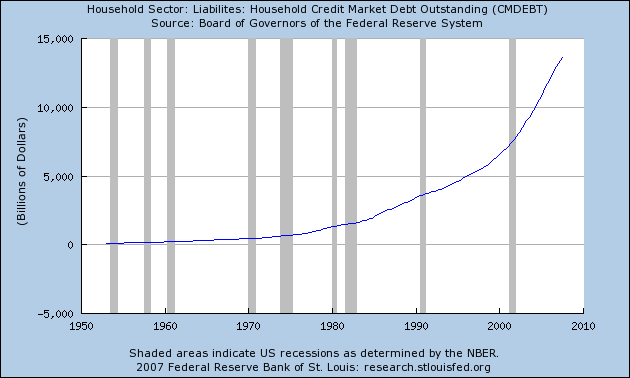 And here is a chart of the last 10 years of total household outstanding:
Notice the mammoth increase? Total household debt outstanding went form about $8 trillion to a little under $14 trillion, or an increase of about 75%.
All of that debt has to go somewhere -- it doesn't exist in a financial netherworld. It has to become an asset to
somebody.
And it has -- in the form of a massive amount of securitizations
which are currently being written down by literally every financial name in the business.
So far we've seen about $100 billion or writedowns in the financial markets and we are going to see more.
That's the central problem right now; it's not interest rates but the amount of crap on the books of various financial players (hell -- all the financial players).
In other words, the problem isn't the need too underwrite more consumer debt -- we are already choking on consumer debt. The problem is the system made too many loans that are now going bad.
And the only way to wean us off of that problem (easy money) is to feel the pain so we don't do it again.