From the WSJ:
Over the next few years, the pharmaceutical business will hit a wall.

Some of the top-selling drugs in industry history will become history as patent protections expire, allowing generics to rush in at much-lower prices. Generic competition is expected to wipe $67 billion from top companies' annual U.S. sales between 2007 and 2012 as more than three dozen drugs lose patent protection. That is roughly half of the companies' combined 2007 U.S. sales.

At the same time, the industry's science engine has stalled. The century-old approach of finding chemicals to treat diseases is producing fewer and fewer drugs. Especially lacking are new blockbusters to replace old ones like Lipitor, Plavix and Zyprexa.
This story brings back some really old memories for me. When I was a little kid -- as in maybe 7-8 years old -- I remember my Dad talking about investments he had made in Merck and Bristol Meyers. He used the dividend reinvestment plan. He thought these companies would be the next wave of super-big US companies in the mold of GE.
At the time he was right. In the mid-1970s big pharma was just getting ready to take off.
Which brings us to today. One of the themes I'm seeing in the market is a flight to safety. Stocks like P&G and Johnson and Johnson are seeing renewed buying interest as investors perceive them to be safer investments in a turbulent market.
However, big pharma really hasn't benefited from this run in a major way. But let's back up. First, here is a long-term chart of PPH -- the Pharmaceutical ETF.
This sector has languished for most of this entire, 5-year rally.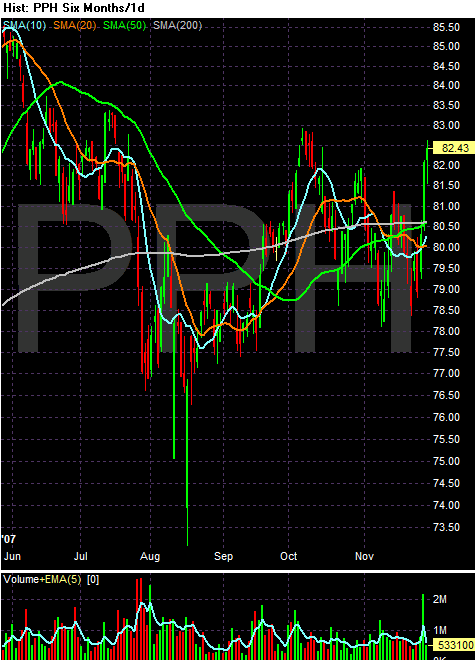 And while we've seen a nice pop over the last few days, this sector clearly is not benefiting from the flight to safety.
I can't speak to the validity of the WSJ's analysis of the business model in place. I can speak to the market situation. While big pharma clearly still has some value in the market as evidenced by their lack of serious sell-off, they also don't have the upside potential you would naturally think of in a turbulent market and slowing economy.