I harp on the importance of Dow Theory a lot. Basically, if the economy is improving business will make more "stuff" and people will buy more "stuff" which means more "stuff" will have to get from point A to point B.
But while the SPYs rallied after the last Fed rate cut, the transports have been mired in a trading range. In fact, the transports have been below the 200 day simple moving average (SMA) for almost three months now.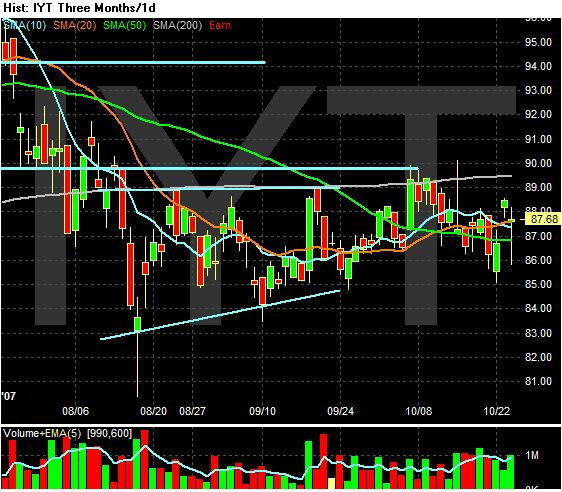 Here are some of the earnings stories from the sector.
Railroads fall (Wednesday 10/24):
Meanwhile, analyst Jason H. Seidl cut his rating on shares of Burlington Northern to "Neutral" from "Outperform," saying the stock has less potential for growth after a 17 percent year-to-date stock price increase.



He noted that while the company posted third-quarter earnings that beat Wall Street expectations, the near future is expected to be challenging as carload demand continues to wane.
Norfolk Southern Profit Drops:(10/24)
Norfolk Southern Corp., the fourth- largest U.S. railroad, said third-quarter profit fell 7.2 percent on declines in coal shipments and freight moved by a combination of trains and trucks.



Net income decreased to $386 million, or 97 cents a share, from $416 million, or $1.02, a year earlier, the carrier said today in a statement. Earnings trailed analysts' estimates, and the shares tumbled the most in two months.

``I was a bit surprised in the negative reaction in the stock,'' said Jason Seidl, a Credit Suisse analyst in New York, noting that the railroad announced Oct. 9 that profit would drop. He rates Norfolk Southern as ``neutral.''
Con-Way Profit Drops: (10/23)
Freight and logistics company Con-way Inc.'s net income fell 41 percent in the third quarter due to restructuring costs and weak demand, the company said Tuesday.



Profit amounted to $37.3 million, or 78 cents per share, versus $63 million, or $1.24 per share, a year earlier. Revenue rose 3 percent to $1.11 billion from $1.08 billion. Results included restructuring and acquisition costs of $7 million, or 9 cents per share.
Heartland Express' earnings drop slightly (10/23):
Heartland Express, Inc. (Nasdaq:HTLD - News) announced today financial results for the quarter ended September 30, 2007.

Operating revenues for the quarter decreased slightly to $146.6 million from $147.1 million in the third quarter of 2006.

Operating income for the quarter was negatively impacted by a $4.3 million decrease in gains on disposal of property and equipment. Net income decreased 25.5% to $17.1 million from $23.0 million in the 2006 period. Earnings per share were $0.18 compared to $0.23 for the third quarter of 2006. The Company expects a minimal amount of gains from disposal of property and equipment in the fourth quarter of 2007.
Ryder Net Rises 1% (10/24):
Ryder System Inc., the largest U.S. truck-leasing company, said third-quarter profit rose less than 1 percent as a softening economy reduced demand

.

Net income climbed to $65.5 million, or $1.11 a share, from $65.3 million, or $1.06, a year earlier, the Miami-based company said. Revenue rose 2 percent to $1.65 billion, curtailed by a 15 percent decline in short-term truck rentals. The shares fell.

``The U.S. economy is moderating and they're seeing softness in certain patches of it,'' said Todd Fowler, an analyst with KeyBanc Capital Markets in Cleveland, in an interview. ``There's some concern as to how long softness in rental markets will last.'' Fowler rates Ryder ``hold'' and doesn't own shares.

Simply put, we're just not moving that much more "stuff" right now.
That makes me wonder about how good the underlying economy really is -- and how strong the market really is.