I'm a big fan of the Dow theory, largely because it makes such great sense. If the economy is growing then business will need to use more transportation resources to get its products to a variety of locations.
Right now we're seeing decreased traffic.
From the American Trucking Association:
The American Trucking Associations' advanced seasonally adjusted For-Hire Truck Tonnage Index decreased 0.1 percent in June, marking the third consecutive month-to-month drop. Tonnage fell 1.3 percent in May and has dropped 3.5 percent since March. The not seasonally adjusted index dropped 3.3 percent from May to 114.1.

On a seasonally adjusted basis, the tonnage index declined to a seven-month low of 110.5 (2000 = 100) in June from 110.6 the previous month. Compared with a year earlier, tonnage was down 3.4 percent in June, which is just a slight improvement from the 3.6 percent year-over-year decrease in May.

ATA Chief Economist Bob Costello said that while the government reported the economy grew at a 3.4 percent annualized rate in the second quarter, that strength did not filter into the transport sector. "Our tonnage index fell 1.8 percent during the second quarter from the first quarter and was 3.2 percent lower than the same quarter in 2006," he said.
Here's a chart from the report: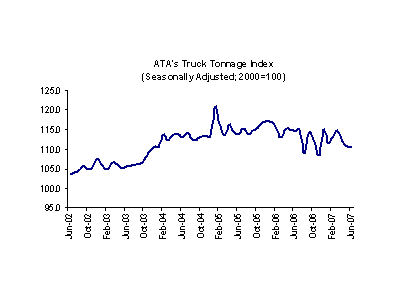 Also note that rail traffic is still below year ago levels. These charts are from
Transmatch