From Bloomberg:
General Motors Corp. and Ford Motor Co. said U.S. sales plunged in July, leading declines at the five largest automakers as a housing slump and gasoline prices damped demand for new cars and trucks.

GM and Ford, the two biggest, said sales slid at least 19 percent. Toyota Motor Corp. and Honda Motor Co., Japan's biggest automakers, each posted a drop of more than 7 percent from a year earlier, while DaimlerChrysler AG fell 9.1 percent.

The five largest U.S. automakers by sales hadn't posted declines in the same month since May 2005. The companies account for more than three-quarters of U.S. vehicles sold.

``No one was immune to the weaknesses in the marketplace in July,'' said Jesse Toprak, an auto analyst at Santa Monica, California-based Edmunds.com. ``The demand for new cars is not unlimited.'' The slowing U.S. housing market, he said, ``has an impact on the psychology of the consumer.''
Remember this chart from yesterday? It shows that chained annual personal consumption expenditures have been stagnant for the last 5 months.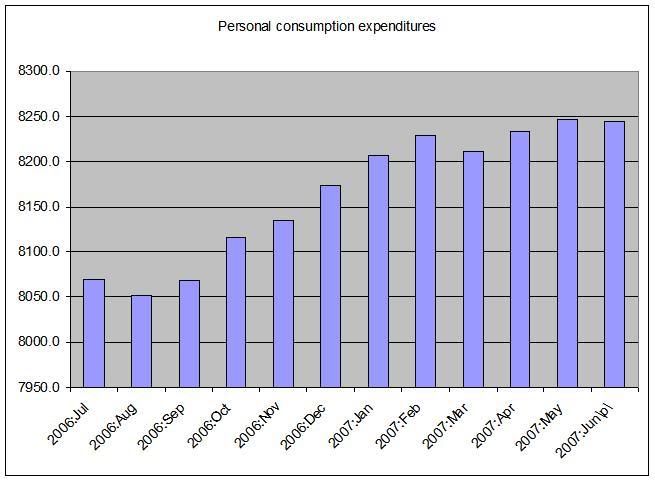 Now let's look at durable goods. The total amount of durable goods sales in chained 2000 dollars at a seasonally adjusted rate show more stagnation: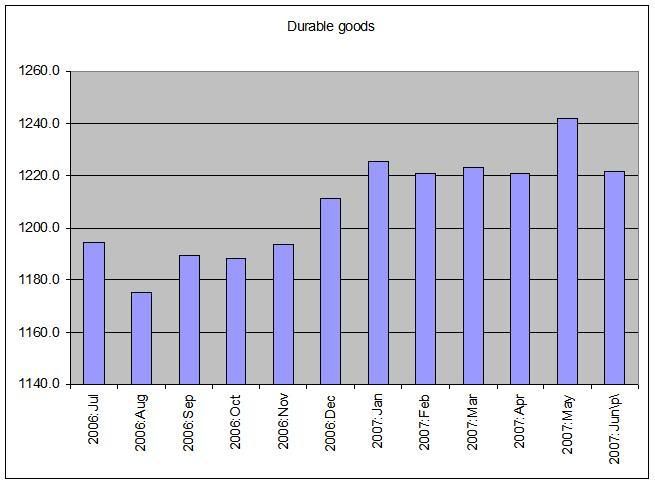 And here's the month to month percentage change.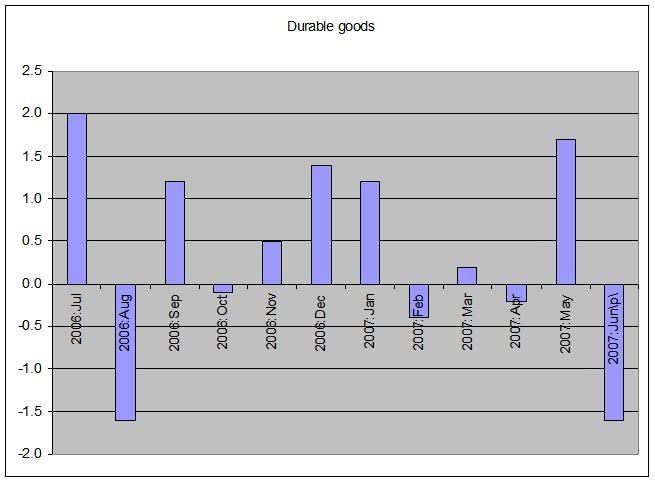 Assuming the durable goods are a proxy for consumer confidence (because durable goods last longer and are therefore more expensive), the consumer doesn't look that happy right now.