From the Financial Times:
How long before the dollar hits $1.40 to the euro? That is the question many analysts are asking after a week when the US currency struck a new low of $1.3843 to the euro and fresh multiyear lows against a range of currencies, including sterling.

The US currency has fallen 4.5 per cent against the euro this year and 4 per cent against sterling, hitting a new 26-year nadir against the pound last week. The trade-weighted dollar index dropped to its lowest since 1992.

The dollar exchange rate is important because the US relies on hefty foreign purchases of securities and other assets to fund its current account deficit.



"At some point, the fall in the dollar will translate into foreign investors no longer buying US assets and selling their existing holdings,"

said William Strazzullo, chief market strategist at BellCurve Trading.
The last paragraph states a really important question: when will the dollar's value decline to a level that makes investing in US debt securities a bad idea? There is no answer for that. However, consider the following chart from the St. Louis Federal Reserve which shows total foreign holdings of US debt securities. Notice the amount has more than doubled in the last 7 years.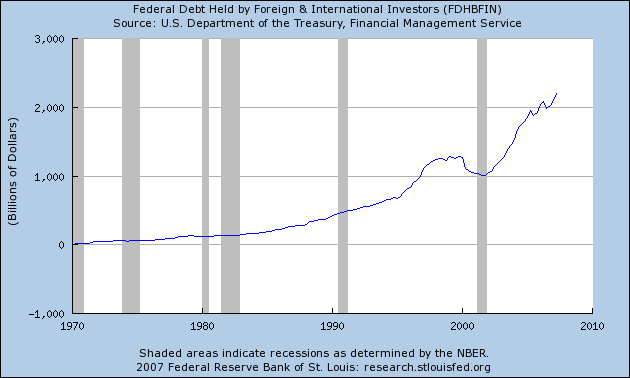 How long will this trend continue when the dollar's chart looks like this?