From Yesterday's retail sector market brief at CBS Marketwatch:
Elsewhere, shares of American Eagle Outfitters (fell 4.3% to $28.06. American Eagle offered a second-quarter forecast that fell short of Wall Street's expectations, sending the shares lower. The teen-wear retailer is looking at second-quarter per-share profit of 34 cents to 36 cents, compared with the 37 cents per share average estimate reached by analysts reporting to Thomson Financial.

Shares of Pacific Sunwear of California also fell, closing at $19.60, off 2.2%. Late Monday, the retailer reported a first-quarter loss and said its second quarter should produce a profit in a range of 18 cents per share to 20 cents per share.
Here's a three year chart of the Retail Holders Trust -- the retail ETF. It's trading at the top of its three year range, indicating traders are still bullish on the retail sector.
American Eagle Outfitter is trading off its highs, but is still doing well.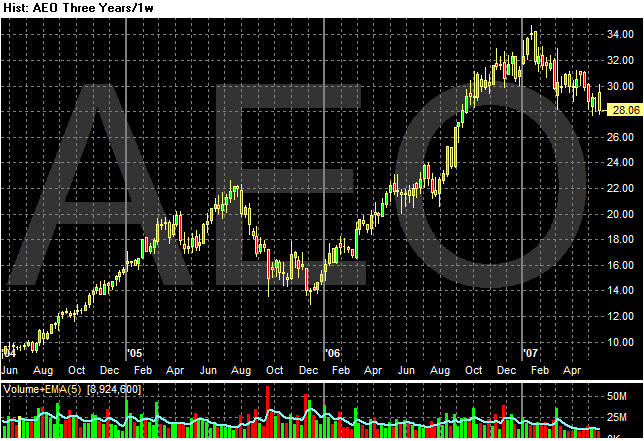 Pacific Sunwear has bounced off its recent lows.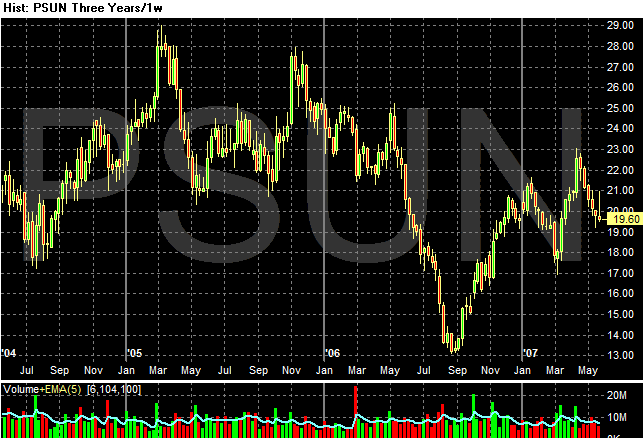 Short version: the general retail sector still looks strong from a market perspective, although traders are willing to sell stocks they think will under perform in the sector.