From CBS Marketwatch:
Average retail gas prices jumped by 12 cents to a record $3.26 a gallon last week, the Energy Department reported Monday. Gas prices are up nearly 50% since late January, one of the largest sustained increases ever recorded by the government.
Here is a chart from the same article. Notice that prices usually spike mid-year. However, this year year prices are spiking significantly earlier.
This Week in Petroleum also noticed this trend in the latest report:
:For the fourth consecutive week, gasoline prices were up, increasing 11.5 cents to 321.8 cents per gallon as of May 21, 2007. Prices are 32.6 cents per gallon higher than this time last year and have now reached an all-time nominal high for the second week in a row. All regions, except for the West Coast, reported price increases. East Coast prices were up 11.6 cents to 309.7 cents per gallon. In the Midwest, prices jumped 15.4 cents to 332.6 cents per gallon, while prices for the Gulf Coast rose 17.7 cents to 309.2 cents per gallon. The Rocky Mountains saw prices increase 7.2 cents to 326.5 cents per gallon. West Coast prices were down 0.6 cent to 337.2 cents per gallon. The average price for regular grade in California was down 1.4 cents to 343.6 cents per gallon, but remains 11.3 cents per gallon above last year's price.
The main reason for increased prices is a drop in inventories: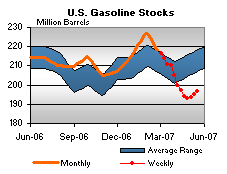 Coupled with increased demand: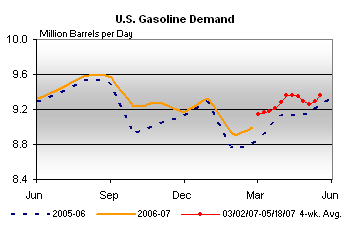 Notice that demand this year is higher than last year.
The good news is gas production has increased over the last few weeks.
However, the days of supply are lower than last years.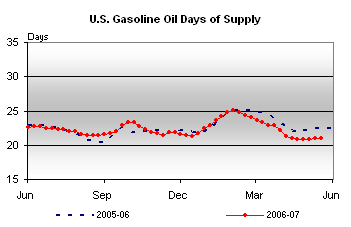 Putting all of these factors together -- decreased supply + increased demand -- and you get higher prices.
Now the question becomes will production increase sufficiently to lower prices?