From Bloomberg:
A pickup in U.S. economic growth is becoming more elusive as climbing gasoline prices, falling home values and fewer jobs restrain American consumers, according to economists surveyed by Bloomberg News this month.
And the WSJ is chiming in on this issue as well:
Amid concern about consumers' habits, big retailers issue April sales reports tomorrow, and the Commerce Department follows on Friday with its estimate of retail sales in April. Yesterday, Redbook research said its index of chain-store sales in April fell 4.1% from March. The International Council of Shopping Centers said its measure of chain-store sales last week was running only 1.7% higher than a year ago, the weakest ICSC reading since early March, when the index matched a nearly four-year low.

Bad weather and rising gasoline prices were early explanations, but now there is evidence of a lasting slowdown, said Michael Niemira, chief economist at ICSC. "Over the last two weeks there's been a little more unease that some of this weakness is broader based. The worry level is higher."
Right now consumer spending is the only economic sector keeping the economy from dipping into a recession. That means consumers have to keep spending. But they are coming under increasing pressure to slow down from several areas.
1.) Employment Growth is Slowing Down. Notice the chart of the year-over-year change in employment is trending lower.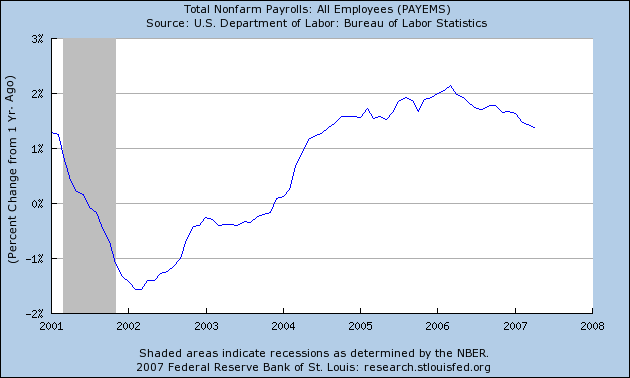 Also note this is occurring against a backdrop of weaker employment growth compared to other expansions. Here is the same chart going back to 1980: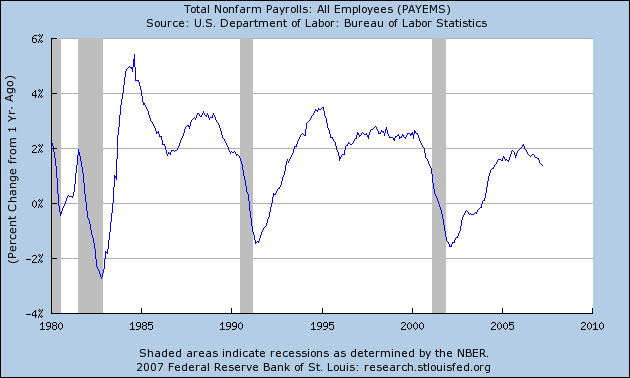 2.) Wage growth is fair, but not great. According to the
Bureau of Labor Statistics
the average hourly earnings of production workers were $16.55 in April 2006 and $17.21 in April 2007 for an increase of 3.98%. Over the same period the inflation level increased from 199.8 to 205.352 for an an increase of 2.77, making the yearly gain 1.21%. Going back over the same period but in an earlier year (2005 and 2004) we get a 2-year and 3-year gain of 1.46% and .96%. In other words, incomes are increasing, but they are doing so just a tad faster than inflation.
3.)
Gas prices hit a record over the last few weeks.
This is a price that consumers see on a regular basis, making it more prone to impact consumer spending patterns.
4.)
Home prices are expected to decline this year.
U.S. home price declines this year are going to be steeper than earlier forecast because of the drop in subprime mortgage lending and the adoption of stricter loan standards, the National Association of Realtors said.

The 2007 median price for an existing home likely will drop 1 percent to $219,800 from 2006, compared with its earlier forecast of a 0.7 percent decline, the Chicago-based association said in a report today. It now projects the median price for new homes to fall $100 to $246,400, the first decline since 1991, from its previous estimate of a 0.4 percent increase.
That means the cash-out refi is going away -- or at least slowing down. As
-- wages aren't rising fast enough to keep up with big increases in consumer spending,
-- the "home as ATM" is going away, and
-- consumers are already dipping into savings to finance purchases,
you have to wonder where the money for continued increases in consumer spending is going to come from.