Considering today's sell-off, let's take a look to see what happened from the bigger picture -- the daily charts.
Here's a chart of the SPY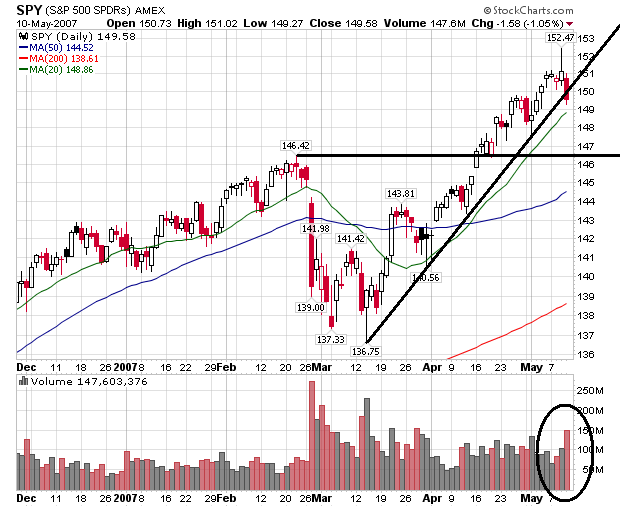 1.) We had strong selling volume today -- almost 50% more than the previous day and more than 100% of Tuesday.
2.) The SPY is slightly below the trend line. However, the breach isn't enough to warrant a call of a change in direction. As a rule of thumb, a trend break requires at least a 2% break, and preferably 3%. The average will get support at the 20-day SMA within about half a point.
Here's the QQQQ chart:
Much of the analysis for the SPYs applies here. Notice we are above the trend line which happens to be obscuring the 20-day SMA right now.
Here's the IWN:
1.) The IWNs have struggled to get above their late February levels, while the SPYs and QQQQs have been making new ground. This means that investors are moving into larger, more established companies (represented by the SPY) and the larger, more established NASDAQ companies.
2.) The average broke through the 20-day SMA, but is still above the trend line. In addition, the 50-day SMA provides further support.
SOOO - the short version is today was not a rally killer. It was a much needed sell-off. However, traders have some good paper profits on their books right now and they may want to lock some of those profits in while the getting is good.