From CBS Marketwatch:
"Just as the market was trying to digest exactly what this love-fest meant for the energy complex, the Department of Energy blindsided us with a wildly bullish 5-million-barrel drop in gasoline supply," said Phil Flynn, a senior analyst at Alaron Trading.

"For gas consumers, the DOE report can best be described as disturbing at the very least," he said in an e-mailed note to clients. "Gasoline supplies are tightening at a disturbing rate and that could mean only bad news for the consumer as we get ready to start a new summer-driving season."

On Wednesday, Energy Department data showed a 5 million barrel decline in supplies of motor gasoline for the week ended March 30 -- much bigger than the market was expecting. Crude supplies rose a bigger-than-expected 4.3 million barrels while distillates were unchanged in the latest week.
Here's a chart of gasoline inventories from
This Week in Petroleum: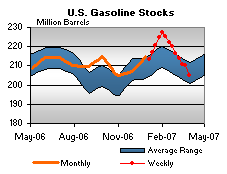 This has lead to continued price increases:
Gasoline prices saw another significant increase for the week of April 2, 2007, jumping 9.7 cents to 270.7 cents per gallon. This is the ninth consecutive week of increases; prices are now 11.9 cents per gallon higher than at this time last year. All regions reported higher prices.
This is not a good sign at all.