From Business Week:
Business outlays for new equipment and facilities have slowed sharply over the past year. That's important because when businesses expand their operations they also add to their payrolls. Job growth over the past couple of years has been the primary support under consumer spending, so any sharp slowdown in capital spending would most likely have an even broader impact on consumers than the weakness in housing.

Inflation-adjusted expenditures for things like computers, heavy machinery, factories, and warehouses grew only 3.9% per quarter during the final three quarters of 2006, after increases averaging 8.2% in the previous three quarters. Spending in the final quarter of 2006 dropped for the first time in almost four years, and there's more weakness to come. In January and February, orders for capital equipment have fallen sharply, putting them far below their fourth-quarter level and suggesting the economy will struggle to reach a 2% growth rate in the first quarter.
Here is a chart of durable goods orders.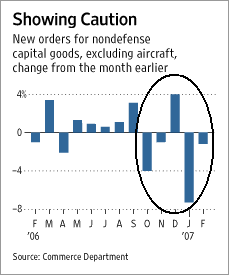 This is not welcome news.