From Barron's (subscription required):
U.S. FARMERS INTEND TO CARPET the country with corn this spring, chasing the dollars being printed at the local ethanol plant. The U.S. Department of Agriculture on Friday estimated prospective plantings of corn at 90.45 million acres, the highest since 1944. This is roughly a 12-million-acre jump over last year's planted acreage, as the exponential growth in ethanol demand has pushed corn prices above 10-year highs. The jump in prices has been widely followed outside the agriculture markets; indeed, not since the movie Trading Places, in 1983, have people been so interested in farm data.

The grain industry was expecting a hike in corn acreage this spring, but this was about 2 million acres more than expected. Chicago Board of Trade corn prices swooned Friday, falling to their daily exchange-imposed price limit of 20 cents. The May contract ended the session at $3.7450 a bushel, a drop of 28.75 cents on the week.

The sharp fall in prices doesn't mean the bull market for corn is over, however. Prices could decline for several sessions, but they already are off their February highs -- by 16.6% for the May contract and 10.8% for the December contract (which represents the fall harvest).
I've been following agricultural prices since the latest CPI and PPI release. In the last three reports, food prices increased at a faster rate. Here is a daily chart of the agricultural price index: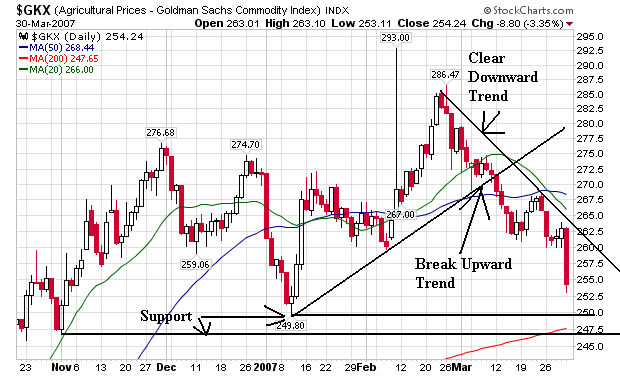 While the chart broke the uptrend in early March, we still have support at two levels before prices break from their current trading range.
Here's a weekly chart of prices.
Notice the uptrend is still firmly intact.