From Bloomberg:
Developing nations' borrowing costs jumped to the highest in six years as Belarus joined governments seeking a bailout from the International Monetary Fund to help weather the credit crisis and slump in commodities.

The extra yield investors demand to own emerging-market government bonds instead of U.S. Treasuries rose 25 basis points to 8.27 percentage points, the most since November 2002, according to JPMorgan Chase & Co.'s EMBI+ index. The annual cost to protect Russia's bonds from default soared 1.3 percentage points to 10.8 percent of the debt insured, the highest in at least eight years, according to CMA Datavision.

``There is now no safe haven globally other than a deeply indebted U.S. government,'' said Jim Reid, head of fundamental credit strategy at Deutsche Bank AG in London. ``The events of the last few days are categorical evidence of the globalization of the credit crunch and its subsequent problems.''

Ex-Soviet Belarus followed Iceland, Pakistan, Hungary and Ukraine in requesting emergency loans as the global financial crisis limits its ability to borrow, the IMF said yesterday. Argentina's lawmakers are attempting to stop President Cristina Fernandez de Kirchner seizing pension funds from money managers, as the country risks defaulting for the second time this decade.

Emerging-market stocks, bonds and currencies are getting battered as the financial crisis that began with U.S. mortgages last year pushes the global economy toward a recession, crimping the demand for the commodities that sustain most developing nations' finances. The IMF forecast global growth will slow to 3 percent in 2009, from 3.9 percent this year, signaling a global recession.
If memory serves, the general arguments against a protracted and deep financial crisis went something like this.
1.) There is no housing bubble
2.) The housing bubble exists, but only in a few markets
3.) There is a housing bubble, but housing only represents 5% of the economy
4.) Only the US' housing bubble is a problem
I may be missing a few steps and/or arguments along the way, but you get the idea. For the last few years the arguments of people who tried to downplay what was going on in the economy have been laughable. I had an email conversation with a colleague a bit ago and we were talking about all of the great rationalizations used to defend the poor fundamentals of the latest expansion. She commented, "whatever happened to dark matter?" -- the theory that the US trade deficit didn't matter because of this substance called "dark matter". It was a ludicrous argument yet people bought into it hook line and sinker.These are people who literally have no idea about the depth of the interconnectedness of the economy. Simply put, things do not happen in isolation. It's a classic case of "when a butterfly flaps his wings in China it effects Washington."
To that end, here are charts of some ETFs of world markets. Notice we're all in the same boat -- everyone is getting hammered. There are no exceptions.
Australia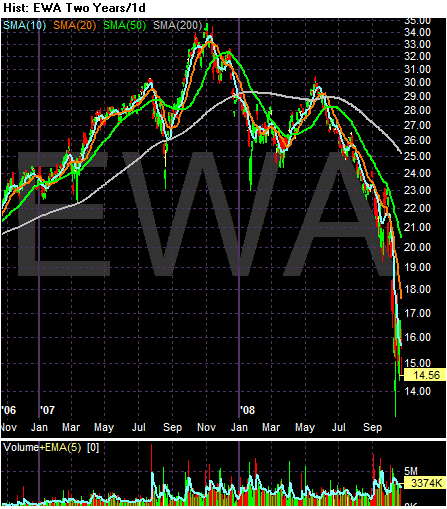 Germany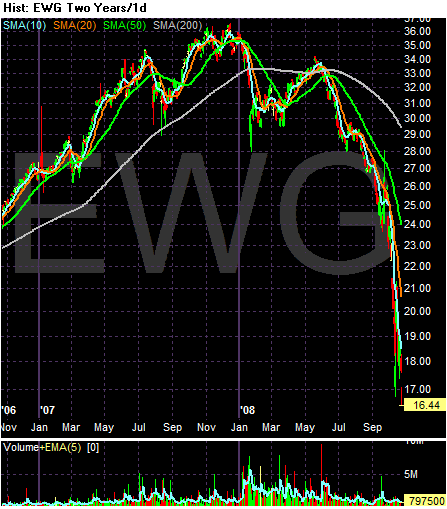 Japan
Mexico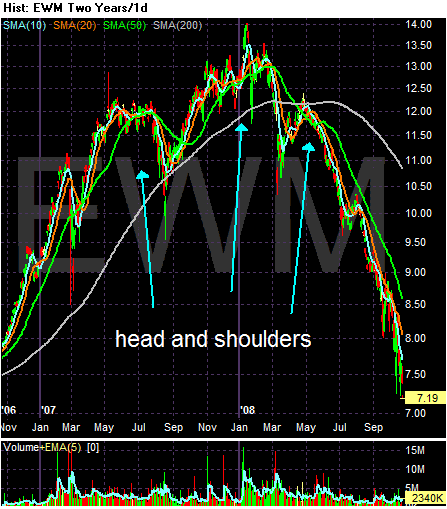 France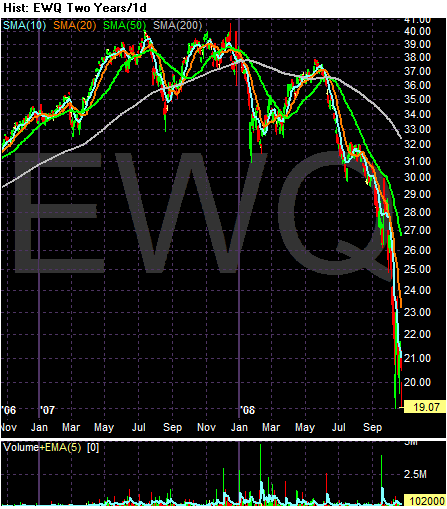 Taiwan
UK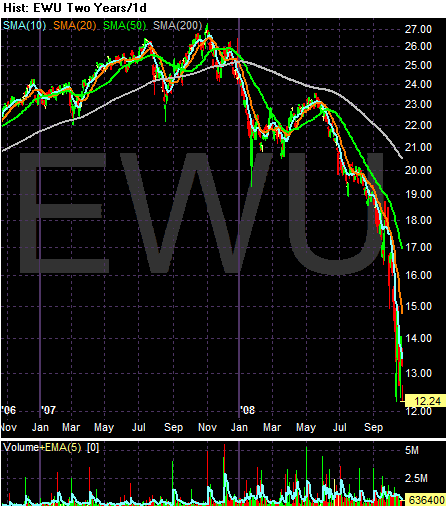 South Korea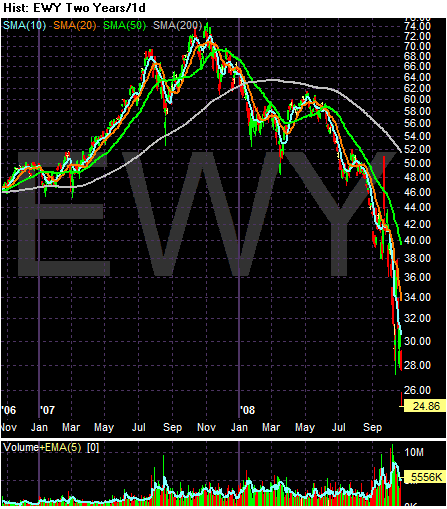 Brazil
For what it's worth, misery loves company.....