From Bloomberg:
The U.S. lost fewer jobs than forecast in April, and the unemployment rate unexpectedly dropped, signaling that the economic slowdown didn't gather pace at the start of the second quarter.

Payrolls shrank by 20,000 workers, following a revised 81,000 drop in March that was larger than previously estimated, the Labor Department said today in Washington. Economists surveyed by Bloomberg News projected a loss of 75,000 jobs. The jobless rate fell to 5 percent, from 5.1 percent in March.

``So far there's a mild start to the recession,'' Aaron Smith, an economist at Moody's Economy.com in West Chester, Pennsylvania, said before the report. ``The data we've been seeing is weak but it's not deteriorating endlessly.''
And
from the BLS:
Nonfarm payroll employment was little changed in April (-20,000), following job losses that totaled 240,000 in the first 3 months of the year, the Bureau of Labor Statistics of the U.S. Department of Labor reported today. The unemployment rate, at 5.0 percent, also was little changed in April. Employment continued to decline in construction, manufacturing, and retail trade, while jobs were added in health care and in professional and technical services.
Before we start cheering, let's remember a very important fact. Job growth for this expansion was the weakest of any post WWII expansion.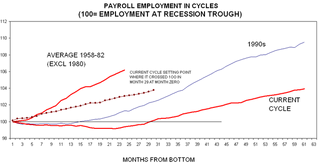 That means we won't be experiencing a ton of job losses like a "standard" recession.
That being said, this is good news. Considering the market is banking on a strong long-term impact of the recent Fed rate cuts, this should send the market higher.