From Marketwatch:
J.C. Penney Co. reported Thursday a 9.1% drop in third-quarter profit, hurt by sweeping discounts to clear unsold merchandise, as the department-store operator cut forecasts for the fourth quarter and the full year, citing macroeconomic concerns.

It marked another ominous sign for the retail sector's prospects as the holiday gift-giving season -- the biggest selling period for retailers -- approaches. Discounts and promotions are expected to be the theme this year, receipts for which were recently forecast by an industry group as likely to be the worst seen in five years.

.....

"We have to be realistic about our expectations for the balance of the year," he said, adding that "2008 is going to continue to be a difficult environment. We are planning 2008 very conservatively on expenses."

Retailers last week reported their worst October results in a decade, hurt by weather and consumers' jitters about the economy.
The reason?
Retail sales data released Nov. 14 by the U.S. Commerce Dept. show total retail sales increased a mere 0.2% from last month as consumers refrained from purchasing furniture, sporting goods, and general merchandise. "Gas prices and other economic issues are beginning to have an effect on consumer spending," says Rosalind Wells, chief economist at the National Retail Foundation.

AAA's Daily Fuel Gauge Report shows that motorists nationwide paid an average of $3.11 per gallon of gasoline on Nov. 14, up from $2.75 a gallon a month ago. Guy Caruso, head of the Energy Information Administration, an arm of the U.S. Energy Dept., warned that gasoline prices, while high, don't yet fully reflect the price of crude oil, which is trading around $94 per barrel. On Monday, the U.S. Energy Dept. warned prices could rise another 20¢ a gallon over the next two to three weeks if refiners pass along the increase in crude oil prices.
Traders are responding accordingly. First, here is a chart of the retail ETF: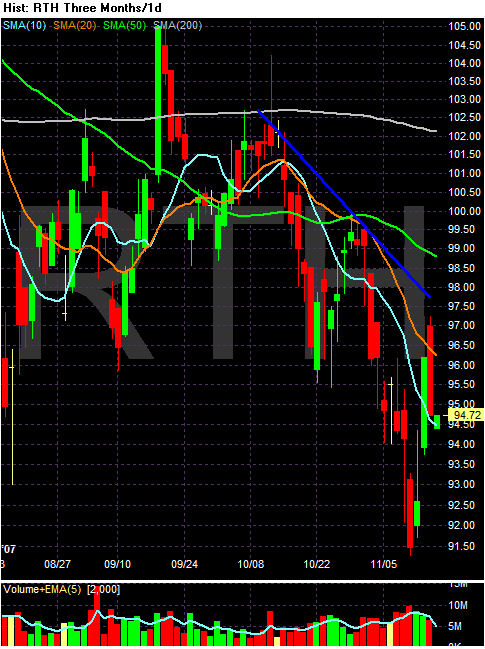 Notice it has been in a clear downtrend since the beginning of October.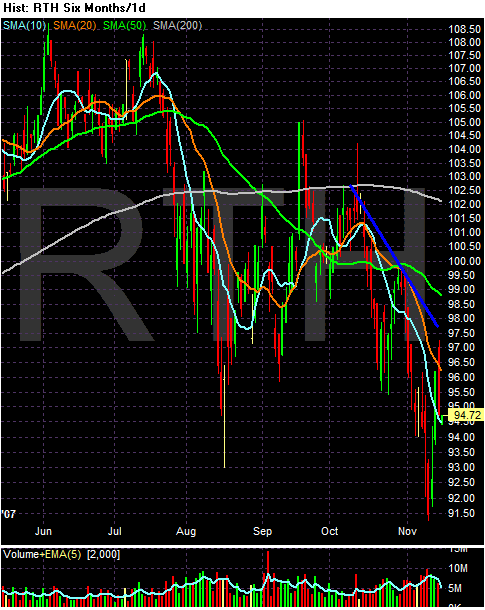 On the 6 month chart, notice
1.) The average is below the 200 day SMA -- bear market territory
2.) The 10, 20 and 50 day SMAs are all moving lower.
3.) The shorter SMAs are below the longer SMAs
This chart is very bearish.