What a difference a day makes.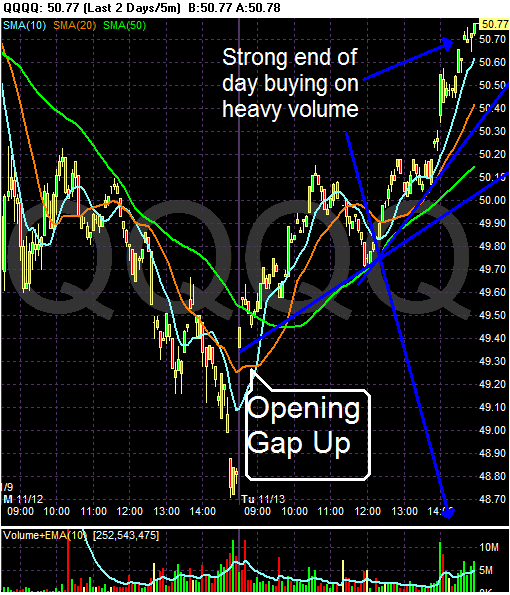 Both the SPYs and QQQQs gapped higher at the open and than rallied for the rest of the day. Notice that the markets closed at high points on heavy volume. This indicates traders were buying into and at the close.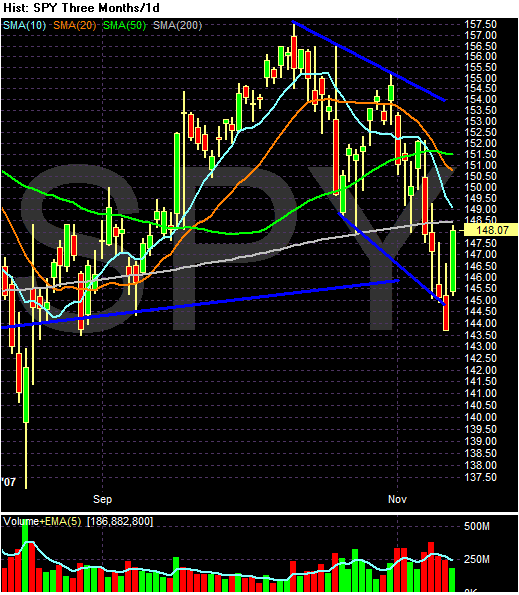 Both the daily SPYs and QQQQs show a strong rebound on decent volume.
OK -- now that the dust has settled, let's figure out why this happened.
1.) The market does not continually move in one direction forever. A rebound was bound to happen.
2.) Notice the financials increased 4.79% today. This on the same day Bank of America announced
$3 billion in writedowns
and Countrywide announced a
48% drop in mortgage underwriting
from year ago levels. The bottom line is this sure looks like bottom fishing or the proverbial "technical bounce" to me, at least in this area of the market.
3.) In addition,
Wal-Mart
announced an 8% increase in earnings along with an optimistic outlook for holiday sales. Considering the street is pretty concerned about holiday sales, this was good news.
4.) Oil dropped
3% today.
This jibed well with Wal-Mart's news of a better than expected Christmas season.
Basically we had a market that was short-term oversold plus some good news.